Blood and Strangers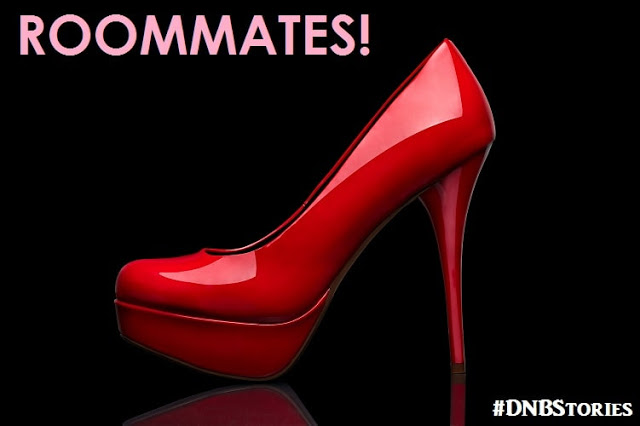 Abuchi shook his head again. 'No. I will not do it.'
Georgina's eyes widened further. 'Abuchi?'

'No.'
'Abuchi?'
'I said no.'
'Why? Why are you saying no? I am personally giving you the go-ahead, so why are you saying no?'
'What are you even saying? How can you even be suggesting this?'
Georgina frowned. 'Abeg go away! You are now acting all holy and righteous, as if you've not been touching all those tiny-legged girls that live in your street.'
'Which tiny-leg girls?'
'I don't know. All I know is that the money involved is too big to pass us by. Check it na. With 1.5 million you can finally sponsor our wedding, or at least buy me a better ring.'
'And what happened to the ring I gave you?'
Georgina showed her fingers to him. 'See. Look at what you gave to me. I don't even know if I will call this one aluminium or copper.'
'Just give me more time, I beg you. I will gather all the money needed for our wedding and we proceed to church immediately. It's not like I have not been trying. Just a little more time is all I need. We really don't have to resort to this.'
'Abuchi no! I don't have time. You may have all the time in the world, but I am a woman; my time is passing quickly.'
'What are you saying?'
'I am 30 years old now, shey you know?'
'Ehen? Am I not 32?'
'Nwokem, you are a man. Even if you reach 100 years, wrinkled and shaking, you still can manage to get a woman pregnant. But it is not so with me. Ten more years from now and I may already be battling with the pause.'
'The pause? What is the pause?'
'The pause. Full stop. A woman's horror.'
'I don't really get all you are saying.'
'You will not get. But when the time comes now, you will still be the one to tell me how you need to get a younger wife.'
Abuchi was about saying something when the curtain parted and April's head poked out. 'Everything okay?'
'Yes,' Georgina said. 'We are just discussing.'
'Okay.' April's eyes moved from Georgina's face to Abuchi's and then back to Georgina. 'Well, I just want to let you know that in case you need some privacy and a soft platform, the room is free. I've also made the bed.'
Georgina's face swelled in a playful frown. 'Nwanyi Obioma, thank you! But we don't need that kind of privacy right now.'
'Actually, we do,' Abuchi quickly said. He held Georgina's hand and his voice dropped to a gentle whisper. 'Come na, let's go into the room.'
Georgina jerked her hand from his grip. 'No! Save your energy for the main job that I called you for!'
April left them in the hallway and walked away.
Back into the sitting room, Loveth asked her, 'Are they doing it there?'
'Doing what?' April asked, amused.
'Clearing and forwarding things.'
April smiled. 'Shut your mouth, this small girl!'
'Can I go and watch?'
'No! If you are turning horny, go outside the street and look for yourself a man.'
'O-or—' Loveth fell towards April. '—you can become my man.' She kissed April, straight on the lips, romantically. 'What do you think?'
April held her hands. 'Thanks you, sweetheart. Much as I find your offer highly irresistible, I will pass.'
Loveth frowned. 'Why na?' She poked at her full breasts. 'Check these out. Am I not sexy enough for you?'
'No!' April shouted. 'Just like you, my dear, between my legs, there is a partition there that is needing of a good amount of filling. And we both know neither of us has the right apparatus to do that!'
The two playing girls broke into laughter.
The lights came on.
April picked the remote at once and changed the channel to Trace Urban.
Kelly Rowland's Lay It On Me was on.
"…What time do you get off? I wanna see you tonight
What time would you be here? I wanna hold you tonight
I wanna just kiss you now, I wanna just touch you now
I wanna just give you all my love tonight…"
The girls stood immediately, twisting and singing along to the song.
"…Lay it on me, put it down on me, oh
Put your hands on my body
Lay it on me, Lay it on me, now
Lay it on me…"

Georgina came out then, dragging Abuchi—like a mother who had gone to her son's school to pick him up.
She quickly dropped her bag and joined April and Loveth in dancing—twerking.
Abuchi stood aside, watching them.
'Come join us!' April said.
Abuchi shook his head.
'Come!' Loveth joined.
Still, Abuchi shook his head.
Georgina twirled round and pushed her vibrating hips into him, knocking him over.
There was great laughter as Abuchi landed on the couch.
Finally the song was out.
Georgina straightened up, clutching her waist. 'Alright, ladies,' she announced, breathless. 'We'll be leaving now.' She grabbed Abuchi's hand again.
'So soon?' April said, looking sad.
Loveth hugged April from behind. 'Yea, yea, you two can go,' she said. 'April and I want to have sex now.'
Abuchi burst out laughing.
Georgina shook her head, cheeks depressed. 'Stay there and be doing like earthworm they sprinkled salt on, when you find yourself in Kirikiri prison, your eye go clear!'
***
Gloria grabbed Segun's hand at once. 'Come! That's my husband that just returned. You must hide.'
Segun jerked his hand off her grip. 'I'll be here. The last thing I will do in this life is hide from my fellow man.'
Stunned and confused, Gloria stood there, fidgeting and scratching through her hair.
Soon, the door opened and the curtains parted. Mr Iyke in his crisp black suit walked into the room.
'Hey, Sugar!' Mr Iyke looked particularly cheery tonight.
'Hello…hi…welcome Honey,' Gloria stuttered. She ran and took Iyke's leather case. Her fingers were shaking as she helped him remove his jacket.
Iyke was undoing his cuff links when his attention finally met Segun.
'Hello?' he said to him.
Segun said nothing in reply. Instead, he walked to the couch, sat and crossed his legs.
Iyke looked at his wife. 'Sweetheart, do I know him?'
Gloria waved her fingers, a dismissing expression on her face. 'Don't bother yourself, dear, just go upstairs and freshen up. I'll handle him.'
Mr Iyke pecked his wife and was turning to leave when Segun uncrossed his legs and cleared his throat. 'Well, Mr, wait,' he said. 'I'll like to talk to you.'
Iyke turned back. 'Okay?'
Segun rose from the seat, but just before he could start talking, a phone started to beep.
Iyke quickly checked his pocket and brought out his phone. 'Young man, excuse me,' he said to Segun, 'one minute, while I take this call.'
And then Mr Iyke started on his phone call.
But he took anything but one minute.
The phone conversation was dragging on to over half an hour already when the door opened and Georgina and Abuchi walked in.
'Good evening, ma,' Georgina greeted Gloria.
'Evening to you Georgina,' Gloria said. 'What kept you for so long?'
Georgina touched Abuchi. 'Sorry, ma. This is that my brother I have been telling you about. He just arrived so I went to the park to get him.'
'Oh, oh ok,' Gloria said. 'Boy, how are you?'
'Very fine, ma, thank you,' Abuchi said.
Gloria turned back to Georgina. 'Georgina, take your guest inside while I set the table.'
'Okay, ma.' The two women shared a communicating wink.
'Let's go, this way,' Georgina said to Abuchi. As they walked past, she glared arrogantly at Segun.
Obviously maddened by the new turn of events, Segun drew a short knife from his back pocket and hurled it off.
It caught someone.
And then there was a quick spurt of red.
And just at about that same moment, a strange knock landed on the door to April's apartment.
It was Loveth that opened the door, and she really did scream!
***
Get all COMPLETE seasons of ROOMMATES on DNB Store, OkadaBooks and Flip Library!