by Victor Uma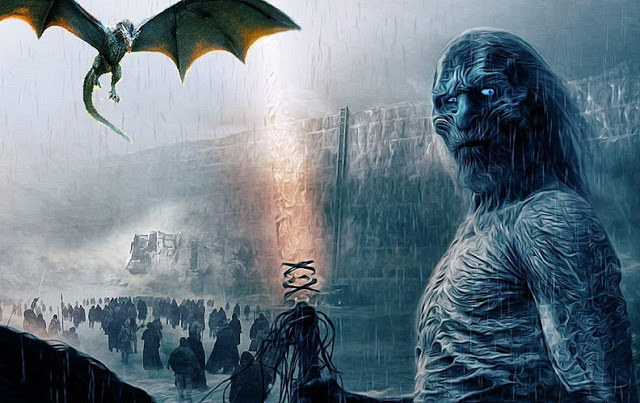 First of all, I want to assume that you are asking this question with some degree of sincerity and not trying to be sarcastic in any way.

That settled, now here is my answer:
1. It is not just any fantasy story
Admittedly, the fantasy genre is basically all about tricks and deceit! But getting fooled can be fantastic if someone does it with skill.
Game of Thrones has that skillfulness factor.
You know that part of starting a fantasy story and after the first few scenes, you go like: "Like seriously?"
Then your doubt blossoms and the next thing you've switched to something else, because the story just didn't do enough to get your suspicion tightly under control.
In GOT there are Dragons, there are White Walkers, but they are presented in such a way that it is easily acceptable to the mind!
When someone fools you skillfully that way you don't get angry at them! You instead admire their efforts!
Many people like me, who strongly believe all that vampires and zombie stuff is not at all fascinating, fell in love with GOT at first sight.
2. It has the mystery factor
The plot of GOT is anything but shallow. So many can be happening at the same time that you just relax back and wonder how someone can be so good at crafting such a complex story.
GOT has multiple streams inside. At one time you go to far north up to the wall and the next moment you meet Daenerys Targaryen!
Winterfell, King's Landing, everywhere, with a lot happening that gets you more and more curious about every story.
And above all of that, we are having the most complicated question — "Who will sit on the Iron Throne?"
Fine example of mystery, if you ask me. The GOT picture is painted very carefully with multiple shades and color, yet every minute detail is included.
3. It is not a kid's show
By this I don't mean all the nudity and adult stuff!
No.
"Harry Potter" is somewhat comparable to GOT, with its excellent plot, characters and all. But Harry Potter is a kid's show.
No offense to Harry Potter fans.
But Voldemort being the bad guy and Harry and his team being the good guys and good always winning over evil — those are the things that kids want and need.
But the real world hardly plays out that way.

Take for instance the beheading of Ned Stark in GOT: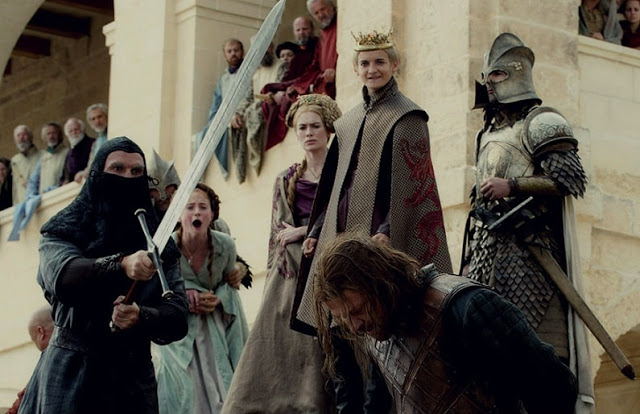 I was sure that this is so not going to happen! Ned stark was like a hero in season 1. How can they kill a hero?
It's foul! They cannot show good getting defeated!

But then that happened and everyone realized: "Holy shit! This show is different!!!"

There is no good, bad, black, white evil in this show, which makes it all so real.
Practical!
4. The quotes and dialogues are excellent.
5. Then there is the beauty of the cast.
7. The complex politics, drama, adventure…
Complete package, isn't it?
***
The only story that can adequately stand the pace with GOT is maybe The Lord Of The Rings, but it is sadly not a series.
And, yes, Daniel Nkado's Ola [The Tale of Young Moon Maiden] came really close — sweet, complex plot yet remaining African to the core with dragons replaced by giant eagles and the black, horned creatures replacing walker zombies.
Sadly, we don't have a cinematic adaptation yet!
***
Uma Victor, writing for DNB Stories!