by Staff writer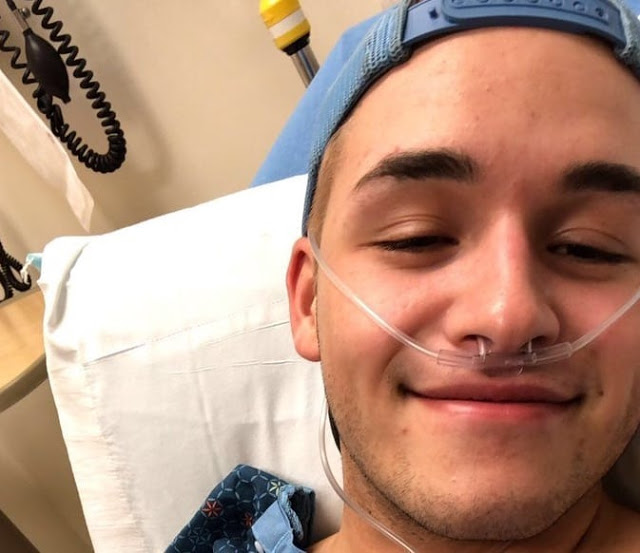 Fredy Alanis – a gay man from Chicago, Illinois, has taken to his social media page to share a story of how he ended up in hospital for three days after sucking "a hulk-sized dick".
Fredy Alanis ruptured his airway while performing blowjob on a hung male partner.
He posted a selfie on Twitter last month with the caption:
"Excuse the bad angle but remember when I sucked a hulk-sized dick and ended up in the ER afterward LMFAO never forget."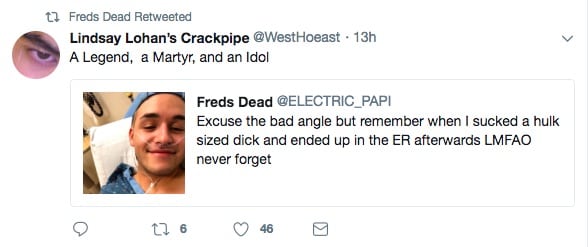 The tweet immediately attracted people's attention, with some internet users describing him as a "legend" and asking him questions about the dynamic of the incident, which took place at the beginning of January.
Alanis estimated the penis to be between 10-10.5 inches.
"My poor little throat afterward was demolished," Alanis recalled, describing how he ruptured his airway performing the blowjob—although he said he "finished him off," went home, and only realized something was seriously wrong the next morning.
According to Alanis, he had to explain what happened to the doctors. "The look of disgust I got was humiliating," he said.
Alanis disclosed more details of his hospital experience in an interview with Them, describing how he was initially reluctant to discuss what had happened because his mother drove him to ER and he had only told her he was violently coughing.
"Eventually, I had to tell the doctors exactly what happened to be treated the right way," he said, adding: "The fact that it happened is insane because the doctor told me getting the airway ruptured through oral intercourse is one in millions, maybe hundred million."


Tracheal rupture, though treatable, can cause serious complications such as scarring and the long-term need for a ventilator.
In the interview, Alanis is quoted as saying his parents know he's gay, but "they just don't know I'm a whore"—but the young man later clarified on Twitter those were not his exact words.
"I just want to make it very clear that I DID NOT call myself a whore lmfao I said I didn't tell my family about this situation because I didn't want them to think I was a whore omfg," he wrote.
The young man also revealed he is still in touch with the guy and his penis. "I told him what happened and since then when we decide to hook up or whatever he is a lot less rough. He's more cautious and aware of what he's doing," he told Them, adding that he'd do it again and encouraged others to do the same.
"If you wanna go for it, go for it. Do whatever you wanna do don't be intimidated by any size. In the long run, to me, it was worth it," he said.