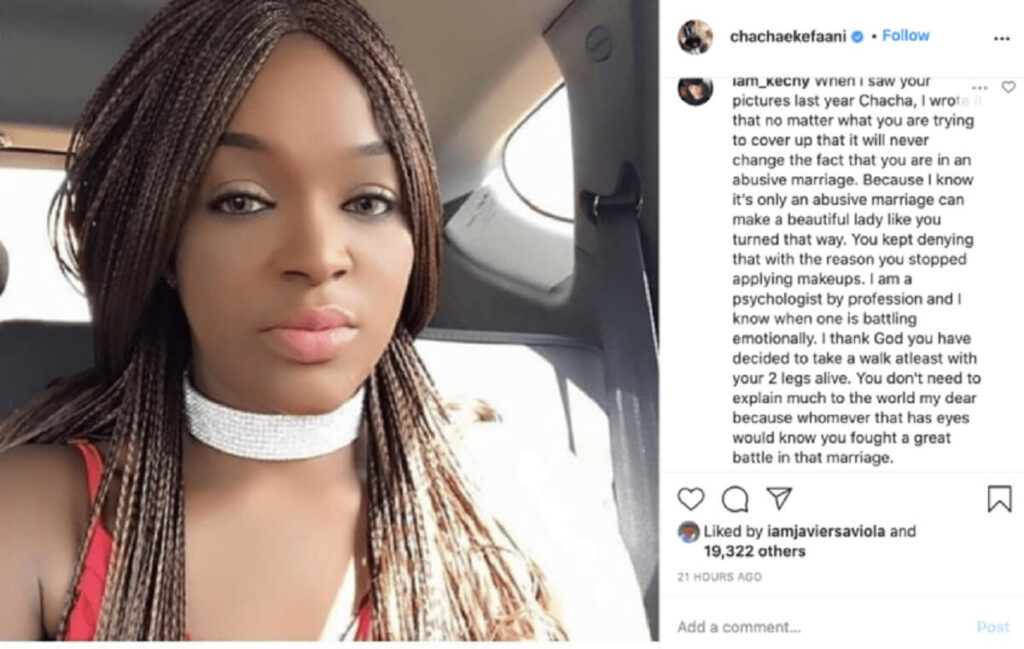 Popular Nollywood actress Chacha Eke announced earlier today that her marriage to Nollywood movie director and producer, Austin Faani has collapsed.
Chacha Eke, 27, said she is done being married to Austin. The Ebonyi State-born actress did not immediately give reasons why her marriage crashed but she promised her supporters the full story will come out later.
The actress said in a short video she posted on Instagram: "People think I'm crazy, I'm mad but this video is to let the world know that I'm done with the marriage. I don't have a lot to prove that I'm done with him, but I'm done. I'm moving on with my life finally – I can't say a lot, right now but you will hear my story."
A social media user identified as @iam_kechy has alleged that the cause Chacha Eke's marriage collapse has to do with domestic violence. @iam_kechy said she'd known Chacha Eke was in an abusive marriage for a long time.
@iam_kechy wrote on Instagram:
"When I saw your pictures last year Chacha, I wrote it that no matter what you are trying to cover up that it will never change the fact that you are in an abusive marriage. Because I know it's only an abusive marriage can make a beautiful lady like you turned that way. You kept denying that with the reason you stopped applying makeups. I am a psychologist by profession and I know when one is battling emotionally. I thank God you have decided to take a walk atleast with your 2 legs alive. You don't need to explain much to the world my dear because whomever that has eyes would know you fought a great battle in that marriage."
Chacha Eke and movie producer Austin Faani were married for 7 years (2013 – 2020) and have three children together before the news of their separation emerged.