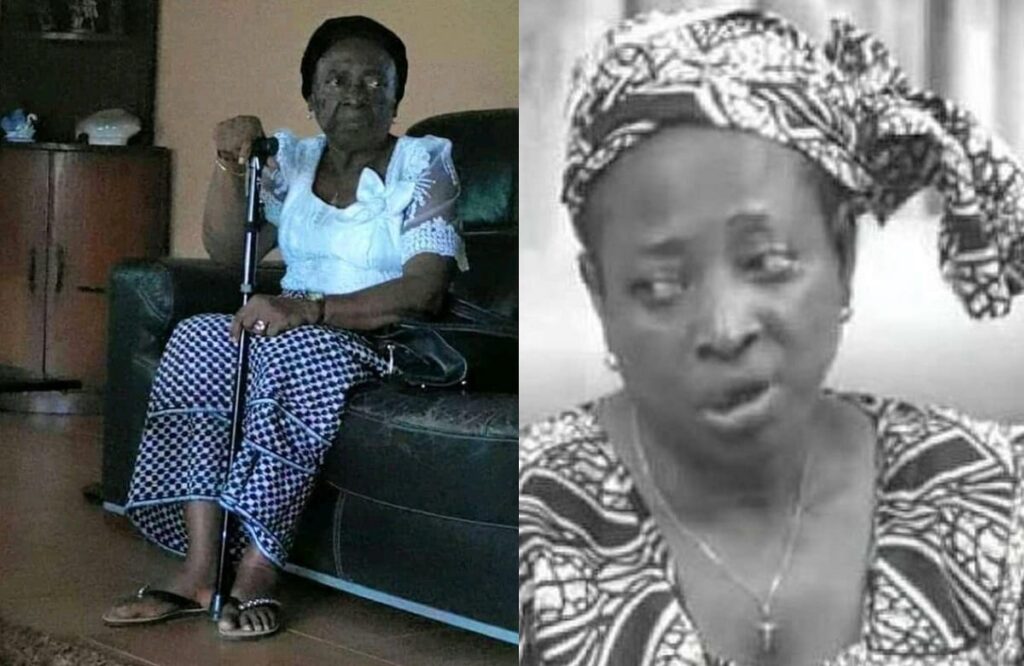 Who is Lizzy Evoeme?
Lizzy Evoeme is a veteran Nigerian actress popularly known for her role as Ovuleria in the now-rested NTA sitcom, 'New Masquerade'.
Lizzy Evoeme has been in the Nigerian movie industry as far back as the '80s, even before the name "Nollywood" existed.
She became well known in 1982 after starring as Ovuleria, the cocky wife of Chief Zebrudaya Okoroigwe Nwogbo, in the now-rested NTA sitcom titled 'New Masquerade'.
The comedy series was written by James Iroha who also starred in it as Giringory Akabogu.
Lizzy Evoeme is also known for her role in the 1993 home video titled 'Circle of Doom'. The 10-person cast home video also starred the likes of Francis Agu, Kanayo O. Kanayo, Bob Manuel Udokwu, and Nnenna Nwabueze, etc.
The home video was directed by Chris Obi Rapu and produced by Okechukwu Ogunjifor.
Full data profile of actress Lizzy Evoeme
| | |
| --- | --- |
| Full name | Lizzy Evoeme |
| Stage name | Ovuleria |
| Age | 79 years |
| Gender | Female |
| Birthday | Year 1942 |
| State of origin | Imo state |
| Parents | N/A |
| Marital status | Widow |
| Tribe | Igbo |
| Career | Actress |
Lizzy Evoeme's childhood
Though originally from Akagbo in Ikeduru Local Government Area of Imo state, Lizzy Evoeme was born in Calabar, Cross River State in the year 1942. She is the first of eight children born to a very strict father.
According to her, her ambition as a child was to marry as early as possible to escape the wrath of her extremely disciplinarian father. Her father was a seafarer, a captain, and a trader who does not hesitate to use the rod on his children when necessary.
Lizzy Evoeme's education
As of the time of writing this article, there is no available information regarding the educational background or qualifications of veteran actress, Lizzy Evoeme.
Lizzy Evoeme's career
Lizzy Evoeme, during an interview with Alexander Okere of PUNCH Newspaper, stated that she started her acting career as a member of a drama group in Aba called 'Ndiche Playhouse'. The group was known for organizing plays for people to watch and make donations.
It was during her days with the drama group that she got an invite to attend the audition for the play 'Sons and Daughters' which was produced by James Iroha also known as Gringory Akabogu.
She got a minor role in the play and it was after one of their rehearsals that she was asked to take a major role in another play titled 'Zebrudaya' which was also produced by James Iroha.
However, the veteran actress revealed that she started acting professionally when she starred in the popular NTA sitcom titled 'New Masquerade'.
According to the actress, she did some other shows after the 'New Masquerade' series ended and also starred in a 1993 home video titled 'Circle of Doom' before travelling abroad to be with her family.
The actress explained that the NTA sitcom allowed her to travel to places like the United States of America, Sierra Leone, Cameroon, and almost every part of Nigeria.
She further explained that she was able to cater for herself and her children with the proceeds she got from being an actress in the series as she was already a widow at the time it began airing.
Lizzy Evoeme (Ovuleria)'s marriage
Lizzy Evoeme revealed during the interview that she married at a very tender age. According to her, her marriage was a fruitful and successful one, though it was short-lived because her husband died early.
She explained that she met her husband in the church choir where she was also a member, but lost him to the cold hands of death during the Biafran War (Nigerian civil war) in the '70s at a very young age.
The actress' marriage was blessed with five children of whom three are late.
Lizzy Evoeme's husband
Information regarding the name and identity of Lizzy Evoeme's husband is not available, however, the actress revealed that her late husband was from Ngwa in Abia state and he was a promising civil servant who worked as a court clerk before his death.
According to her, civil servants were regarded as wealthy men in those days, therefore her husband did not allow her to work, saying he would rather do the working and cater for her and the children.
Lizzy Evoeme (Ovuleria) children
There is no available information about Lizzy Evoeme's children at this time. It is only known that she had five children of whom three are dead.
Is Lizzy Evoeme (Ovuleria) dead or alive?
As of the time of publishing this post, veteran actress Lizzy Evoeme is alive and kicking, though she is presently suffering from arthritis and eyesight problems.
Rumours of actress Lizzy Evoeme (Ovuleria)'s death hit the media in 2019. The actress was falsely reported to have died by a Twitter user named Churchill Ebhodaghe on November 5, 2019.
The news was quickly debunked by close friends and relations of the actress. Lizzy Evoeme later granted an interview to television houses to prove that she is still very much alive.
Where is Lizzy Evoeme (Ovuleria) at the moment?
Lizzy Evoeme is presently residing in Port Harcourt. According to her, she had to relocate to Port Harcourt from Uyo, Akwa Ibom state after her daughter with whom she was living died in 2016.
The actress revealed that she was residing in Enugu before she moved to live with her late daughter.