Who's Leavin'?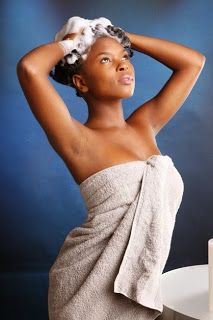 As soon as Georgina entered the bathroom and banged the door behind her, Loveth quickly joined April on the bed. 'Where did you pick that girl from?' she asked in a hushed voice.
'She helped me retrieve my stolen phone in class earlier today. After hearing her story, I decided to help her.'
'You lost your phone today?'
April hummed. 'My dear, it is a long story.'
'Nawa o! So she is in your department?'
'No. It was a general course.'
'Ok. You know we can't allow that kind of—'
The bathroom door swung open suddenly, startling the two girls on the bed.
'You girls don't have any other soap other than Premier in this house?' Georgina asked, holding up a cream-colored bar of soap. Her face was wet with soap foam.
'That is not Premier,' Loveth said.
'Then what is it? It smells like shit!'
'So what soap do you use?' April asked.
'Irish tap!'
'Irish what?!' April and Loveth threw this out at the same time.
'That green soap. Irish Stream or something. I know you girls won't know it because it is very expensive.'
April stood. 'Lady, I believe you meant to say Irish Spring. That soap in your hand is Bianca, you can't get a bar of it for anything less than a thousand naira.'
Georgina pulled a face, grunting. 'Bianca ko, Philomena ni. Let me wash soap off my eyes jor.'
'Better!' It was Loveth this time.
Georgina flicked her a frown and banged the door behind her.
Fifteen minutes later, Georgina, still in her long blue towel was now hanging her clothes in the wardrobe. She was humming to a tune.
April and Loveth watched her, both afraid to talk first.
Loveth nudged April. 'Tell her now,' she murmured.
'You tell her.'
'You brought her so tell her yourself.'
'Quit blaming me, I was just trying to help.'
'Well done, Mother Theresa. Remember there is a mad woman at the dumpsite beside Divine Hostel, why not go and bring her up too.'
April hissed. 'Ok, fine. I will tell her.'
'Erm, Georgina?' she called.
Georgina turned.
But before April could start to tell her how they have decided she could no longer stay, how it was against the lodge rules and regulations that three girls stay in one room—Georgina talked first.
'You girls heard about the big show coming up at Kings and Queens this weekend?'
'Which show?' Loveth asked.
Georgina gave the two girls a surprised face. 'What? Don't tell me you girls haven't heard of the Celebrity Night Out event?'
'Oh, that. We have,' Loveth said. 'Heard the ticket is 10K and not everybody can buy.'
Georgina smiled. 'Well, you girls should consider yourselves the luckiest girls on the planet cuz your new roommate here is all class and glamour… and no shades!'
'What is that supposed to mean?' April asked.
Georgina opened the side pocket of her bag and brought out three VIP gold tickets. She raised them, waving them at the two girls. 'Here, puppies, are VIP tickets to the show!'
'What?' Loveth stood and rushed to Georgina. She took the IV's from her and checked them, screaming almost at the same time. 'OMG! They are real! April check, they are real!'
April collected the shiny cards from Loveth and looked at them. 'Dbanj is coming too? Wow.'
'Dbanj, Inyanya, Donjazzy, all the Mavin crew, name them…even that their tiny boy that looks like who Tiwa Savage is breastfeeding!'
'Koredo Bello! OMG! Doro things!' Loveth twisted her hips in a small dance of excitement.
'Save your dance for the day, girlfriend,' Georgina told her. She turned to April. 'April darling, you wanted to tell me something before, right?'
April glanced at Loveth. 'Oh, dear, never mind. Just wanted to ask if you'd be needing more hangers!'
'Oh ok. In that case, come girls, let me tell you what we must do cuz we really need to stand out at that party!'
Next on Roommates: Bishop Georgina!