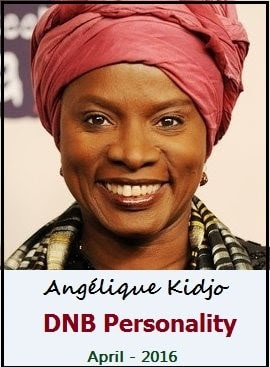 In today's era of so much musical noise and saddening lack of talent, it is only necessary that we continue to celebrate those whose creativity and grace have not only shown us the limitlessness of what we truly can do but also leave us with a sweet, indelible mark.

Meet the ever gracious, vivacious and gorgeous Angélique Kidjo — DNB Stories Celebrity Personality of April!!!
She is Africa's premier diva, according to Time magazine.
She is one of 40 Most Powerful Celebrities in Africa__Forbes.
She is one of Top 100 Most Inspiring Women in the World__The Guardian.
Here at DNB, we choose to call her The Queen of Songs!