by Staff writer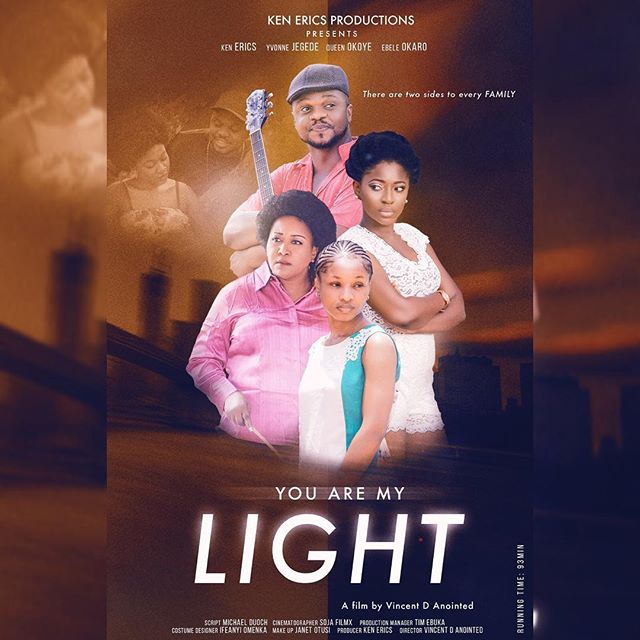 The Nigerian film industry, Nollywood, has mastered the act of surprise, but rarely in a good way.
From unrealistic love scenes to bad sound mixing and catastrophic story lines, it is understandable why anyone would say "I don't watch Nollywood movies" as a thing of pride.

But, once in a while you get to see something really well-done from Nollywood that will revitalize all lost hope.

You Are My Light is one of such productions. I got prompted to drop all my reservations and give this movie a shot when I saw three actors I've grown to love and respect in it: Ken Erics, Yvonne Jegede and Ebere Okaro.
And I must say that I was not disappointed.
First, the picture is great, nothing like any of those Nollywood films you'd see and would wonder if it was shot entirely with a mobile phone, or something similar.
Second, the story line is fresh and well thought-out too.
And Ken, Yvonne and Ebere all did great justice to their roles, delivering impressive theater and compelling dialogue.
Seeing Ken Erics as Samson and Yvonne Jegede as Gabriella takes me all the way back to Dustin Hoffman and Meryl Streep's award-winning performances in Kramer vs. Kramer.
True, I would have loved to see more authenticity in Munachimso's character (portrayed by young actress Queen Okoye), mainly because I have a personal thing about excessive romanticization of teenage characters.
However Ebere Okaro's supporting role as Aunty Betty really came in handy, effectively making up for the almost linear narrative.

Even though I yearned for more out-of-the-blue plot twists, all in all the movie was a fantastic output!
'You Are My List' Nollywood movie Full Cast and Crew
Ken Erics (Samson)
Ebere Okaro (Aunty Betty)
Yvonne Jegede (Gabriella)
Queen Okoye (Munachimso)
You Are My Light was directed by Vincent D Anointed and produced by Ken Erics.
Another movie produced by Ken Erics is Love Melody. Love Melody was directed by Ability Tagbo and features Ken Erics as Obiora and Rachael Okonkwo.
Watch the trailer of You Are My Light here: