by Staff writer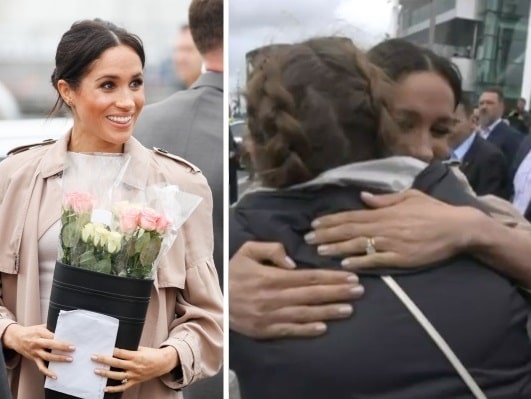 While in New Zealand for her and Prince Harry's royal tour, Meghan Markle met a fan who she used to message on Instagram.

Markle hurried towards Hannah Sergel, 20, and gave her a hug in Auckland on Tuesday.

Sergel said New Zealand Prime Minister Jacinda Ardern messaged her a photo of the moment Markle spotted her in the crowd.

Sergel said she and the duchess would message when Markle was an actress and still had her own social media accounts.

The Duchess of Sussex saw Hannah Sergel in the crowd on Tuesday holding a sign that said, "It's Hannah from Instagram."

She exclaimed, "Oh, my God!" and rushed towards Sergel, giving her a hug.

Markle deleted all of her social media when she joined the royal family, but Sergel said they messaged on Instagram before that, when Markle was still an actress.

Sergel told New Zealand's 1 News that Markle "would tell me to do well at university and encourage me to be myself."

She shared an old video on Twitter that Markle had addressed to her, in which Markle says "hope I get to meet you soon."