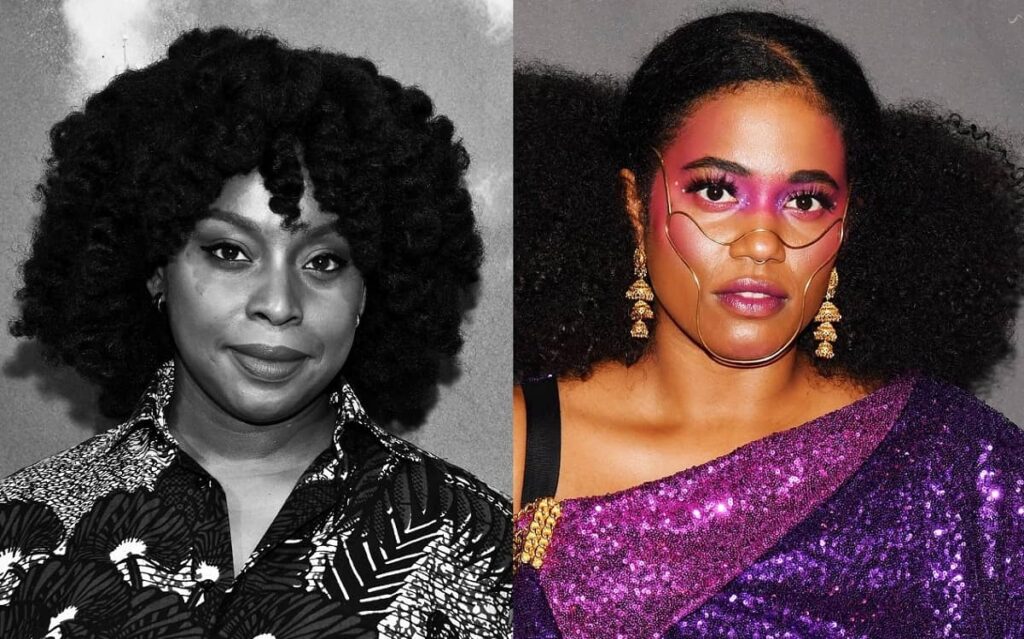 No names were mentioned but everyone (sort of) knew who renowned author Chimamanda Ngozi Adichie was speaking about in her fiery essay titled: "It Is Obscene: A True Reflection in Three Parts."
One person described the essay as a "brutal and ridiculously eloquent takedown of a former "protege".
In the lengthy piece, Chimamanda writes of a former student of hers (Akwaeke Emezi), who she "welcomed into her home", despite her reservations, "allowed to spent to time in her Lagos home" and played "support-giver, counsellor, comforter" to, only for them to turn around and go on social media to insult her.
Though largely not spoken about, Chimamanda Ngozi Adichie's sour relationship with Akwaeke Emezi, a former student of her writing workshop, has lasted over four years.
Speaking about how Akwaeke Emezi went on social media to attack her following her March 2017 interview about trans people, Chimamanda Ngozi Adichie writes:
"Of course she could very well have had concerns with the interview. That is fair enough. But I had a personal relationship with her. She could have emailed or called or texted me. Instead, she went on social media to put on a public performance…After she publicly insulted me, it was clear to me that this kind of noxious person had no business in my life, ever again."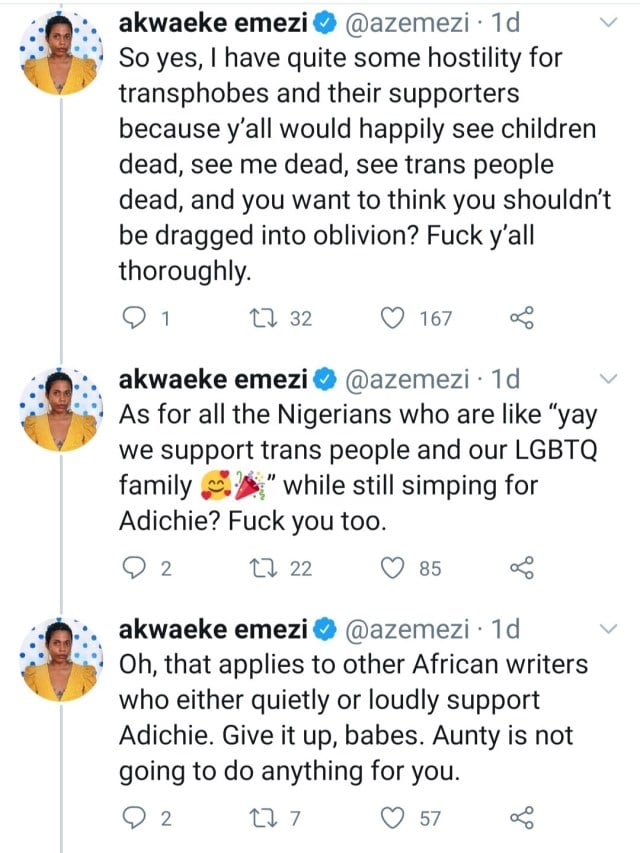 Chimamanda Ngozi Adichie writes:
"It is a simple story – you got close to a famous person, you publicly insulted the famous person to aggrandize yourself, the famous person cut you off, you sent emails and texts that were ignored, and you then decided to go on social media to peddle falsehoods. It is obscene to tell the world that you refused to kiss a ring when in fact there isn't any ring at all."
This person has created a space in which social media followers have – and this I find unforgiveable – trivialized my parents' death, claiming that the sudden and devastating loss of my parents within months of each other during this pandemic, was 'punishment' for my 'transphobia.'

Chimamanda Ngozi Adichie – June 2021
Born in Umuahia and raised in Abia, Akwaeke Emezi identifies with the pronouns "they/them" after she removed her breasts as part of her journey to becoming gender-fluid.
Read Chimamanda's essay in full HERE.