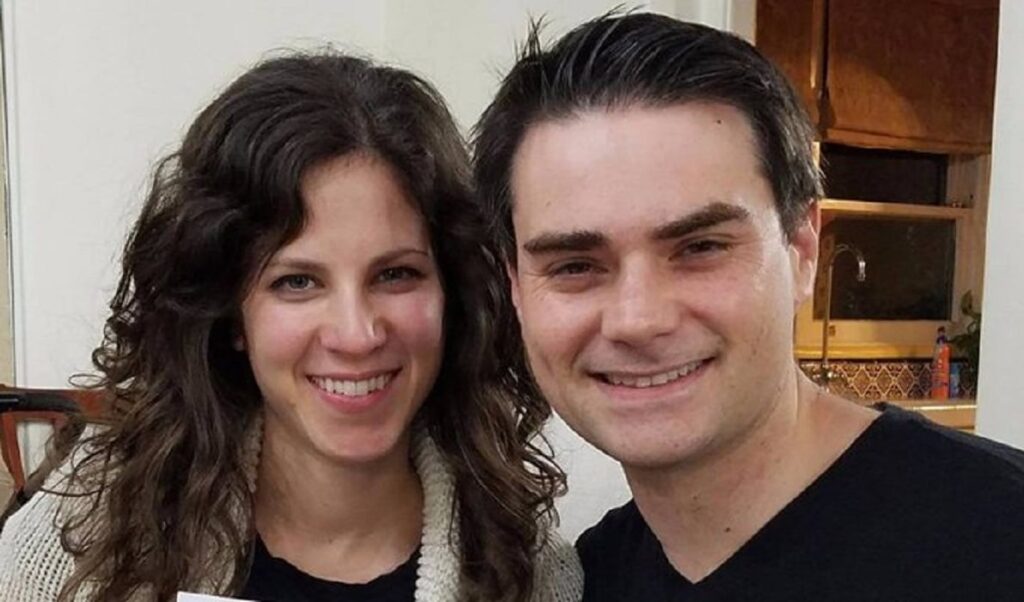 Who is Mor Shapiro?

Mor Shapiro (née Toledano) is an American family doctor who became popular following her marriage to media host Ben Shapiro.
Mor Shapiro was born in the year 1988 in Herzliya, Tel Aviv, Israel. Not much is known about Mor's family except that they were a typical Jewish-Moroccan family who migrated to the US when she was just 12 years old.
Mor has always lived a simple and quiet life. She became publicly known when her husband, Ben, began talking about her frequently on his show, causing fans to become interested in knowing what Mor's life is like.
Full data profile of Ben Shapiro's wife – Mor Shapiro
| | |
| --- | --- |
| Full name | Mor Shapiro |
| Age | 33 years old |
| Date of Birth | 1988 (Month not known) |
| Gender | Female |
| State of Origin | Herzliya, Israel |
| Nationality | American |
| Height | 5″9 |
| Parents | Unknown |
| Marital Status | Married |
| Spouse | Ben Shapiro |
| Career | Doctor |
Mor Shapiro's childhood and education
Mor Shapiro was born in 1988 and she is currently 33 years old. Mor lived her early life as a child in Israel until her family moved to Sacramento, California.
She completed her high school education at Sha'arei Mishpat College in Israel. By 2006, she enrolled in UCLA to study Psychobiology. After earning her degree, proceeded to the David Geffen School of Medicine in the same UCLA where she earned her MBBS in 2015.
Mor had always shown an affinity for medicine and biology right from a young age. Another thing she was known to love as a kid was music. She attended music lessons as a child and even learned to play the violin and piano. She also took vocal lessons but did not pay much attention to singing, even though she had an amazing voice. In medical school, Mor was a member of an acapella group.
Mor Shapiro's career
Mor Shapiro is a medical practitioner specializing in women and behavioural health. As a family doctor, Mor Shapiro is trained to cater to different health challenges that affect children and families. She has taken particular interest in bringing awareness to conditions that affect women.

Mor Shapiro is a member of the Family Medicine Residency Program of Kaiser Foundation Hospital, Fontana California. She has been involved in a two-year extensive research in Developmental Neuroscience, examining the brain's developmental stages in early childhood with the aid of an MRI.
She is a co-founder of the annual Ethics Symposium at the David Geffen School of Medicine, UCLA. She previously worked at the Department of Family Medicine at the University of California.
Mor Shapiro's marriage to Ben Shapiro
Mor Shapiro met her husband through his sister Abigail who was a renowned opera singer in 2007. At that time, she was still a student at UCLA.
Ben and Mor kicked off a romantic relationship in same 2007, shortly after meeting. Three months into the relationship, Ben Shapiro proposed to Mor and she said yes. Less than a year later, precisely eight months after, the duo had a Jewish wedding in Israel in 2008. Mor was 20 years old at that time she got married to Ben, and he was 24.
Mor Shapiro's husband

Mor Shapiro is married to Ben Shapiro
Ben Shapiro's full name is Benjamin Aaron Shapiro. He is a lawyer, political commentator, political debater, columnist, media host, and a New York Times best-selling author.
Ben and Mor Shapiro got married in 2008 and have been married for thirteen years.
Ben and Mor Shapiro's children
Ben and Mor have three children together. Their first child, Leeya Eliana Shapiro was born in 2014 and she is currently 7 years old.
The couple has kept the names of their two other children away from the public. As far as the public knows about the other two children is that the second child is a boy.
Ben and Mor Shapiro's kids live with them in their house in Nashville, Tennessee.
Mor Shapiro's net worth
Mor Shapiro's net worth has not been confirmed by any wealth evaluation agency at this time. However, she is estimated to earn about $300,000 annually and is rumoured to have a net worth ranging between $1 – 5 million US Dollars.
Mor Shapiro on social media
As earlier stated, Mor Shapiro likes to live a private life therefore she does not currently operate any active social media accounts.