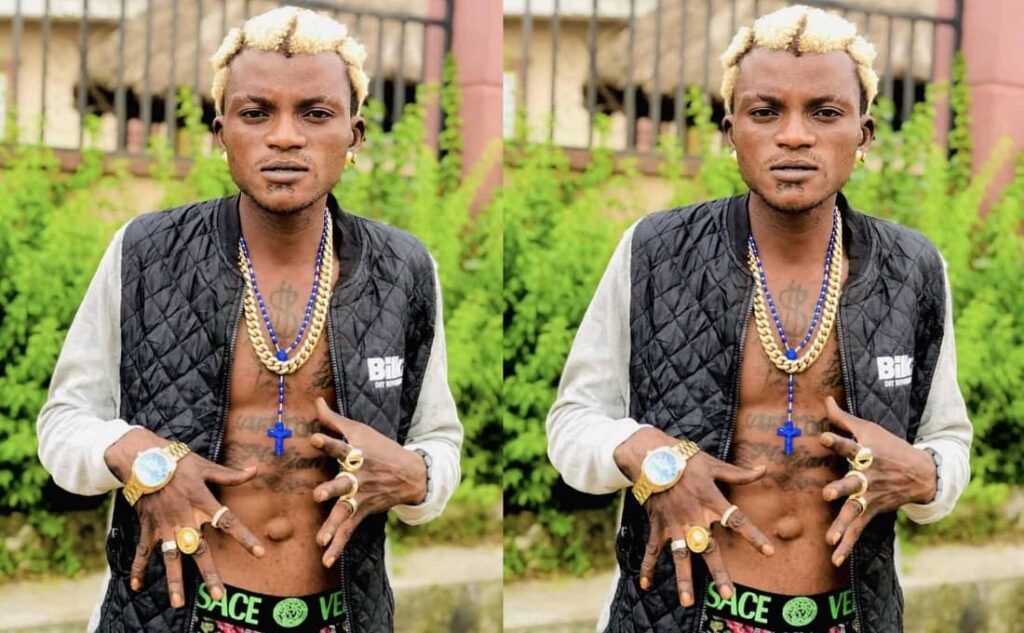 Who Is Portable?
Portable Omolalomi is a rising Nigerian musician whose real name is Habeeb Okikiola. His single "Zazoo Zehh" which featured Olamide and Poco Lee brought him to the limelight in late 2021.
Some fans call him by the nickname Shaku Shaku, Street Problem, Werey Olorin, Trabaye, Gbemidebe, Dr. Zeh, and Wahala Musician.
Full Data Profile of Portable
| | |
| --- | --- |
| Name: | Portable Omolalomi |
| Real Name: | Habeeb Okikiola |
| Date of Birth: | March 12, 1994 |
| State Of Origin: | Ogun State |
| Record Label: | N/A |
| Parents: | Mr and Mrs Okikiola |
| Children: | 1 |
| Height: | N/A |
| Siblings: | N/A |
| Girlfriend / Wife: | N/A |
| Occupation: | Rapper / Singer / Dancer |
| Net Worth: | N12 million – 25 million naira |
Portable's Childhood And Education
Portable Omolalomi was born in the historic capital of Abeokuta on March 12, 1994. He was named Habeeb Okikiola a week after he was born. He was born into the Yoruba family of Mr and Mrs Okikiola in Ogun State, southwest Nigeria.
Portable Omolalomi and his brothers were reared in Abeokuta by their parents, who shared their father and mother's Muslim beliefs. Portable Omolalomi grew up in Abeokuta, therefore he was well-versed in Yoruba from an early age.
Yoruba was the language he used to converse with his parents, classmates and neighbors, and extended family members. He was fascinated by rap music by American singers such as Dr. Dre, Tupac Shakur, The Notorious B.I.G, and Snoop Dogg, which he played on his father's music tape deck while still in primary school.
He idolized these singers and began writing rap songs anytime he was motivated. Meanwhile, the advent of local rap singers such as Lord Of Ajasa, Dagrin, Danny Young, Olamide, QDot, and CDQ pushed him to transition to Yoruba rap and pursue a career as a professional musician.
Growing up, Portable Omolalomi did not lose out on the right to obtain a decent education. For his primary and senior school education, his parents ensured that he was registered in the best public schools in Abeokuta. However, instead of continuing his study at a university, he chose to pursue vocational training at a training center.
Portable's Career
Portable Omolalomi decided to migrate to Lagos State, Africa's music capital because he acknowledged he would have a greater shot of thriving in the industry if he was in the right position.
While in Lagos, Portable Omolalomi searched for producers with whom he might connect because he was writing creative rap tunes. To pay his costs, he continued to work as an artisan in Lagos' mainland.
Portable Omolalomi remained persistent in his quest of just being an A-list musician in the industry, after creating a few singles that went badly commercially. He had an unexpected contact with his music star, Olamide, earlier, and fate smiled on him. Portable was awestruck as he knelt and sobbed uncontrollably over Olamide's legs.
Interestingly for Portable Omolalomi, Olamide was delighted by his skills and offered him to work with dancer and recording artist Poco Lee on a long-term collaboration. Zazuu Zeh's song was born from the project, and it was an instant success.
Portable has been thrust into the spotlight by the single, which has proved popular in the business because of its catchy lyrics and the term "Zazuu Zeh." Portable Omolalomi has gotten numerous offers for collaboration from top artists in the business since becoming recognized after the single.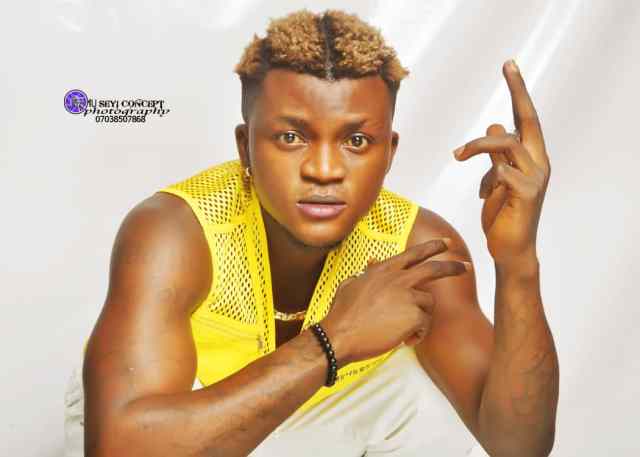 Portable and Poco Lee controversy
Although Portable's rise to fame is perceived as grace by many Nigerians, he nearly lost the opportunity when he called out Poco Lee on social media. In one video he shared on his timeline, Portable claimed Poco Lee stole his song and gave him only $600 out of the $3000 Wizkid sprayed on him.
As the video went viral, many slammed Portable while others slammed Poco Lee. During this time, popular show promoter Kogbagidi sent out Portable from his hotel room. Oops! Gratefully, Olamide, among other singers apologized on his behalf, and the promoter forgave him. Portable went on to apologize to Poco Lee and Kogbagidi for the video. Now, they are back together. Yay!
Portable's songs and discography
Ijo Zeh
Manager Werey Olorin
More Cash Out
OBO Hookup
Zazu Zehh (2021)
Ogo Forever (2022
Social Media
Instagram handle: @portable_omolalomi1
Net Worth
As a result of Portable's fame as a musician, Omolalomi is frequently invited to perform at music shows and concerts throughout the country. When his admirers stream or download his works online, he also receives money. The current net worth of Portable is estimated to be between N12 million – 25 million naira.
Portable Wife And Children
Portable Omolalomi, a young brilliant street musician, has not released any information about his partner, thus we think he is single. He isn't married yet, but he does have a child and hopes to start a family in the future, but he's now focused on his music career.
Portable's awards and nominations
Best Indigenous Artiste – NaijaTraffic Awards 2021 (Won)
Portable's marriage and girlfriend
As of press time, Portable Omolalomi does not have a wife or baby mama. He has hinted at having a girlfriend but hasn't posted her picture yet on Social Media
Portable's son
Portable has a son he calls 'Iyanu Oluwa' but very little is known about the boy.