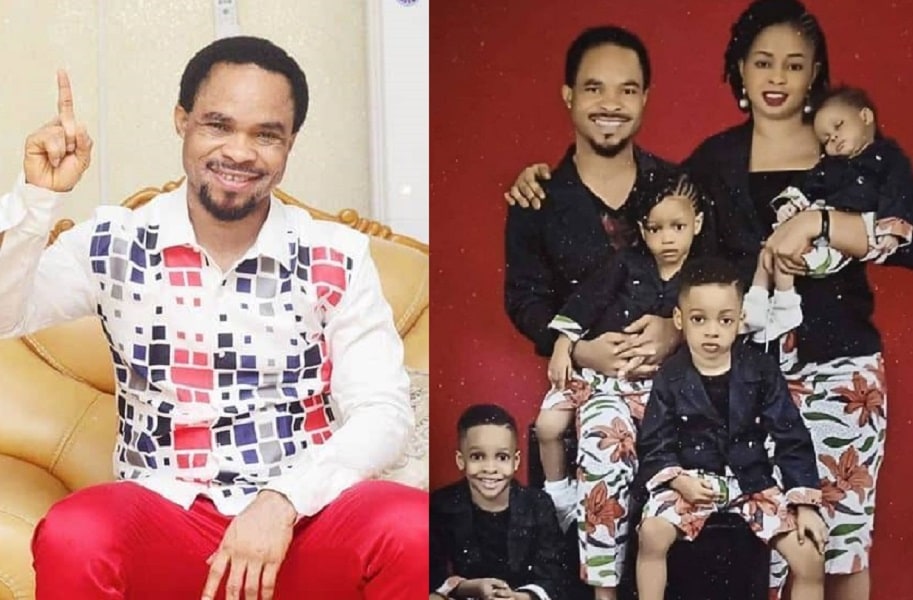 Who is Emeka Odumeje 'Indaboski'?
Emeka Odumeje popularly known as Indaboski is a controversial Nigerian pastor. He is the general overseer of The Mountain of Holy Ghost Intervention and Deliverance Ministry located in Onitsha, Anambra.
Despite being a pastor, Odumeje is also popular for his comic side. He is known for his power-charged sermons and dramatic method of conducting deliverances. The Onitsha-based clergyman calls himself by so many names including "the fight", "the liquid metal", "the lion himself", and "indaboski Bahose".
Emeka Odumeje's early life and education
Odumeje's full name is Chukwuemeka Cyril Ohanaemere. He was born on September 9, 1982, as the third child in a family of six children. Indaboski is 39 years old as of April 2022. He comes from Orsu Ihete Ukwa, in Imo state Nigeria.
According to the information sighted by DNB Stories Africa, Indaboski grew up in a Christian home. His parents – Mr and Mrs Pius Ohanaemere are said to be religious leaders.
Odumeje finished his primary education in Nweje Primary School, Onitsha. After that, he proceeded to Providence High School in the same Onitsha for his secondary school education. However, he could not continue his education because his parents were too poor to support him. According to him, he dropped out of school and relocated to Anambra State in search of greener pastures. There, he learned leather designing which he later abandoned to start up his church.
Emeka Odumeje's wiki profile
| | |
| --- | --- |
| Full name | Chukwuemeka Ohanaemere |
| Place of birth | Orsu Ihete Ukwa, Imo state Nigeria. |
| Date of birth | September 9, 1982 |
| Age | 39 years old |
| Marital status | married |
| Spouse | Uju Ohanaemere |
| Height | 5″2 (1.575m) |
| Occupation | Clergyman |
| Net worth | est. $500,000 |
| Instagram | @prophetchukwuemeka |
How Emeka Odumeje 'Indaboski' started his church
Emeka Odumeje 'Indaboski' started his church on September 10, 2010. According to him, God called him the same way he called Gideon in the Bible at the age of 19. Indaboski recounted that going into "ministry work" wasn't his initial dream and that it wasn't easy for him to abandon his already established leather business. However, his mother helped push him.
According to Odumeje, he always wanted to be a musician or a footballer or just a leather trader in Onitsha. After God called him in the year 2000 at the age of 19 and gave him the mandate to deliver his people, he saw no other option than to begin his journey as a prophet of God. He started a small ministry located at 4 Osumu Street Odakpu, in Onitsha before it was moved to Okija Hall. From Okija, it was transferred to Arondizuogu Hall. The once small ministry has now grown into the big church located at 88 Bida Road, Fegge Onitsha, Anambra State.
About Emeka Odumeje Indaboski's Church
Indaboski's church called "The Mountain of Holy Ghost Intervention and Deliverance Ministry" has grown to become one of the most visited, albeit controversial, churches in the Eastern part of Nigeria. His church has faced a lot of criticism from the public. One thing that caught the attention of many is the unusual way Indaboski conducts his deliverances. There was a video showing him lifting his members and throwing them at empty chairs while 'casting out demons' from them.
While many people find it funny, others are amazed at how a man of God would conduct deliverance like a WWE heavyweight champion. Meanwhile, Emeka Odumeje seems not to be bothered at all. If anything, he has revelled in the controversies surrounding him and gotten even more popular. He keeps flaunting his miracle sessions even though he has been accused of faking them.
Another thing that has gotten people surprised people about Odumeje's church is how the man of God dances to secular music in his church. In a particular video that trended online, Indaboski is seen dancing to a secular song by Nigerian singer, Mr P. Interestingly, all the controversies surrounding his church have not stopped the ministry from growing. In fact, it is attended by high-profile Nollywood actors including actress Rita Edochie. Popular actor Zubby Michael has also been seen at Odumeje's church though he later denied Odumeje being his pastor.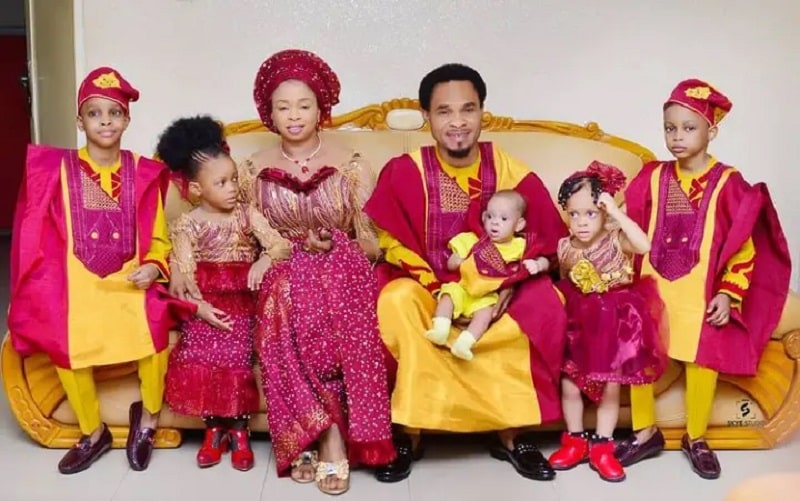 Emeka Odumeje's marriage and wedding
As of the time of writing this article, Emeka Odumeje 'indaboski' is currently married to his wife, Uju Ohaenemere. They got married some years ago and are blessed with 5 children as of April 2022.
About Emeka Odumeje's Wife – Uju Ohanaemere
Chukwuemeka Odumeje's wife, Uju Ohanaemere was born in Obinikpa Village, Umuobom Town in Ideato South L.G.A of Imo State. She grew up there with her parents Mr and Mrs Rufus M. Ogbatuo. There are claims that Odumeje's wife is the daughter of the notorious sorcerer and controversial prophet, "Eddy Na Nawgu", and that Odumeje's powers are from the late sorcerer.
Eddy Nawgu was a controversial prophet and sorcerer that gained prominence in the 1990s. He died on November 9, 2000. The claim that Eddie Nawgu is Odumeje's father-in-law is currently unconfirmed. Moreover, Rita Edochie, known to be one of Indaboski's loyal followers, has also refuted these claims. The actress maintains that the claims are false and that Odumeje's powers come from God.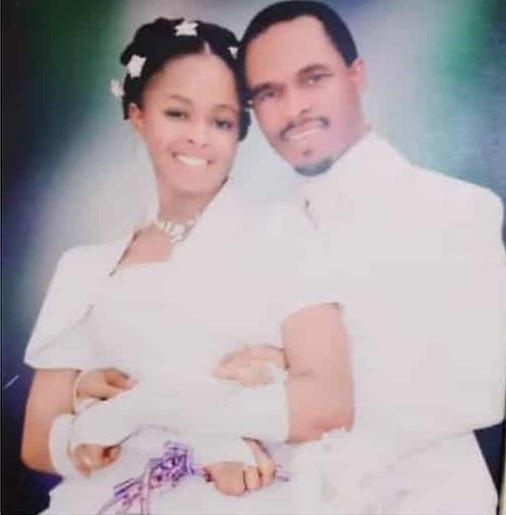 Emeka Odumeje's children
Emeka Odumeje and his wife, Uju Ohanaemere have 5 children together. Information about Indaboski's children is currently scarce in the media. However, on August 21, 2021, the clergyman announced the birth of his 5th child on Instagram.
Odumeje and Ada Jesus controversy
The controversy between Ada Jesus (a Nigerian social media comedian who is now late) and Odumeje began when she accused him of staging his miracles. The comedienne insisted that she brings people to Odumeje's church for fake miracles.
Before their drift, Ada Jesus whose real name is Mercy Mmesoma Obi Nnadi, was an active member of Odumeje's church. Ada Jesus also accused Rita Edochie of having sex with younger men. However, both Odumeje and Rita Edochie didn't take these allegations lightly.
The clergyman proceeded to lay a curse on Ada Jesus. He declared that she will be inflicted with a terminal disease. It didn't take long before Ada Jesus fell ill and was diagnosed with chronic kidney disease. Though there are reports that Ada Jesus has been battling kidney disease prior to her encounter with Odumeje. The comedienne's family members brought her in a wheelchair to Odumeje's church to beg for his forgiveness. Initially, Odumeje refused to forgive her.
In a viral video, Rita Edochie mocked critically ill Ada Jesus saying, "if you get out of that wheelchair, know that it's not me". The actress was heavily criticized for the act. Following the criticism, Prophet Emeka Odumeje and Rita Edochie made videos saying they have forgiven Ada Jesus.
Odumeje went further to offer a million naira for the ailing comedienne's treatment. However, Ada's family rejected the kind gesture insisting that they only needed his forgiveness. Sadly, Ada Jesus died In the early hours of April 21, 2021, after suffering a cardiac arrest.
The meaning of 'Indaboski'
The word 'Indaboski' popularly used by prophet Chukwuemeka Odumeje has been taken to mean someone who doesn't preach love. It depicts a person that is always ready for war as opposed to love and peace. In more literal terms, Indaboski can be taken to mean "a non-preacher of love".
5 Popular Indaboski's Quotes.
Here are some of the hilarious quotes of Prophet Emeka Odumeje AKA the 'Indaboski'.
1. I am the lion himself, the liquid metal, the Indaboski bahose.
2. Everyone cannot be preaching love. I am not a preacher of love. I'm Indaboski bahose!
3. The Kingdom of God is not for stolytellers (storytellers)
4. Onye battery ya folu one bar, o na gba game? (A person who has one per cent battery, does he play games?)
5. Who born you? Who you? You're kolo ( Who gave birth to you? Who are you? You are mad)