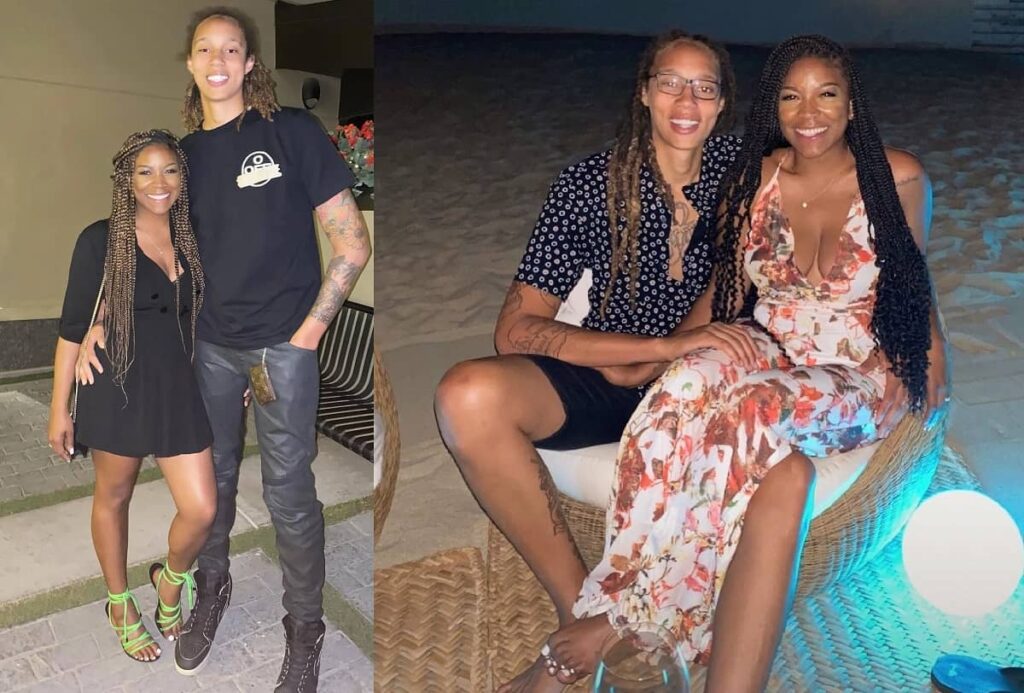 Who is Brittney Griner?
Brittney Griner is an American basketball player. She plays for the Pheonix Mercury of the Women's National Basketball Associations (WNBA). She is reportedly the only basketball player to score 2,000 points and block 500 shots.
Brittney Griner's full name is Brittney Yevette Griner. She was born on October 18, 1990, in Houston, Texas as the last child of four children. Her older siblings are Shkera Griner, Pier Griner, and Decarlo Griner. The 31-year-old basketball player is the daughter of Sandra Griner (mother) and Raymond Griner (father).
Brittney Griner attended Nimitz High School in Houston and also Baylor University. She started her career as a basketball player right from her high school days in 2009. Unfortunately, she was detained on February 17, 2022, at the Sheremetyevo International Airport by the Russian Federal Customs Service on allegations that she was carrying vaporizer cartridges containing hashish oil in her luggage.
According to reports gathered by DNB Stories Africa, she was going to Russia to play in the Russia Premier League for the WNBA offseason before she was arrested and her detention has reportedly been extended to May 19, 2022, due to the Russia-Ukraine war.
Brittney Griner's marriage and wedding
Brittney Griner is a lesbian and she has been married on two different occasions. She came open about being a lesbian on February 11, 2013, during an interview with SI.com. According to her, her father kicked her out of the house after she informed him of her sexuality during her senior year in school, though her mother has been aware since her freshman year in high school.
Brittney Griner who is now on good terms with her father was previously married to Glory Johnson but they separated almost a month after their marriage. She is currently married to Cherelle T. Griner, her second wife.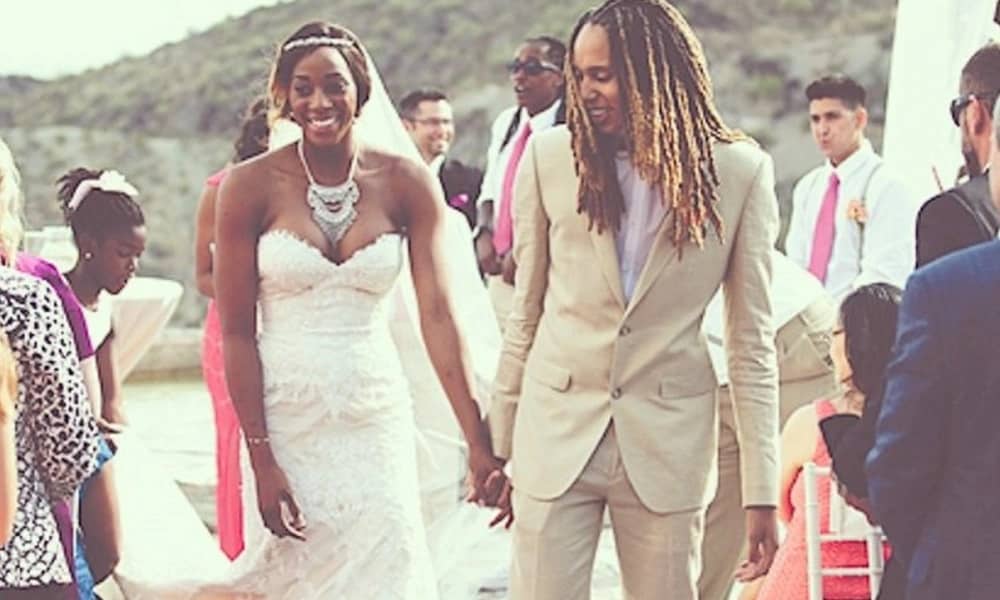 Brittney Griner and Glory Johnson's marriage and wedding
Brittney Griner and co-American basketball player, Glory Johnson got married on May 8, 2015, and got separated in June of the same year before they finally divorced in June 2016. The ex-couple got engaged at a party on August 14, 2014, after they met at a Basket Ball Camp in Las Vegas. Their union was blessed with twin girls born through IVF.
Their wedding reception took place at the Pointe Hilton Tapatio Cliffs in Pheonix with their friends and loved ones in attendance except for their fathers who were not in support of the union. Their marriage was characterized by a lot of irregularities and was shaky from the very start.
The ex-couple were even arrested and charged with assault before their marriage on April 22, 2015. They had both gotten involved in a fight in their Goodyear, Arizona home, sustaining a minor injury. The WNBA suspended them both for seven games after Griner pled guilty to disorderly conduct charges and she was made to complete 26 weeks of domestic violence counselling.
Reports sighted by DNB Stories Africa had it that Griner claimed she married Glory Johnson under duress as she tried postponing their wedding on several occasions. She finally filed for an annulment a day after Glory announced her pregnancy.
Griner claimed that she has no biological connection with the pregnancy which was through IVF, stating that she was not involved in the process. Her annulment was denied and she later admitted that she was involved in the IVF process but was under pressure.
Their divorce process was finalized in June 2016 and Griner was asked to pay $2,516 dollars monthly child support without any spousal support as requested by Glory Johnson. However, Glory Johnson has made it known that she still has a soft spot for her ex-lover despite everything that transpired between them.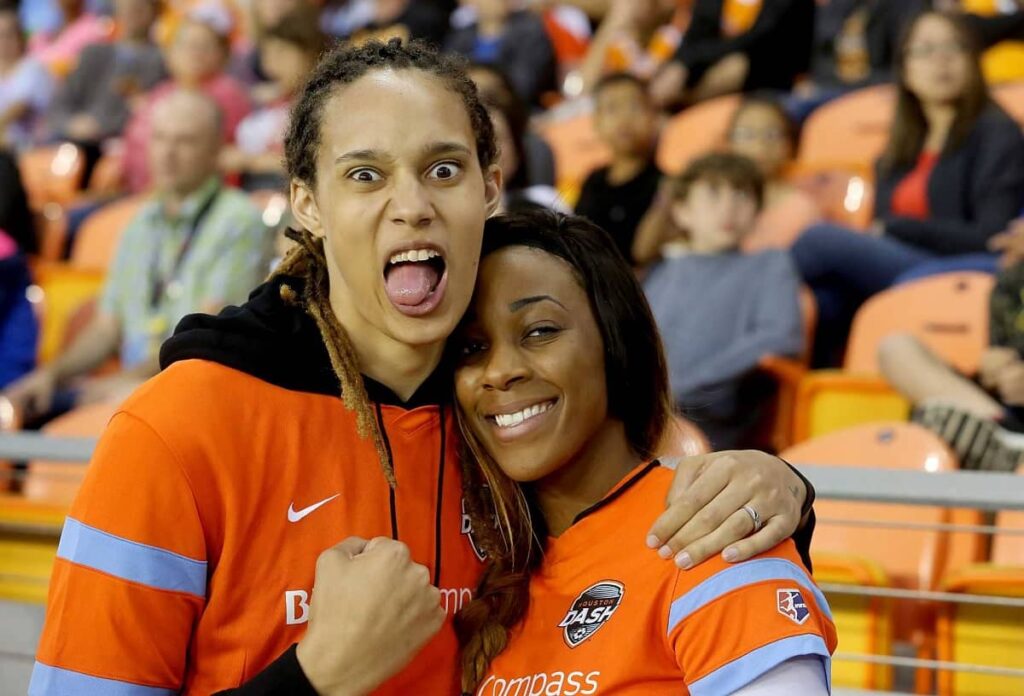 About Brittney Griner's first wife, Glory Johnson
Glory Johnson is an American basketball player and the ex-lover of Brittney. She was born as one of five children on July 27, 1990, in Colorado Spring to Mercy Bassey Johnson (mother) and Bassey Johnson Udofolt (father). She is currently 31 years old and her parents are of Nigerian descent. Her father is a petrochemical engineer who studied at the University of Birmingham in the UK, raising Glory and her siblings in Tennessee.
According to the basketball player, she claims not to be a lesbian despite having been married to one before. She made it known that her encounter with Griner changed her life as she fell in love with an individual, not the gender.
Brittney Griner's second marriage to Cherelle Griner
Brittney Griner got married to her second wife, Cherelle in 2019, three years after her divorce from Glory Johnson. The new couple met at Baylor University in 2017 and started dating that same year. They got engaged in August 2018 and tied the nuptial knot the following year in June 2019.
The two celebrated their 3rd anniversary in 2021, expressing how much they love each other and how they have been through the thick and thin together. Unlike her first marriage, Brittney Griner's second marriage to Cherelle has remained relatively calm and controversy-free. Cherelle has been constantly expressing her love and support for Brittney on her social media page after her arrest in Russia, revealing she has missed her lover.
About Brittney Griner's second wife, Cherelle Griner
Cherelle is Brittney Griner's new wife. She is reportedly a blogger and a law student at North Carolina Central University. Her original name is Cherelle Watson but she changed to Cherelle T. Griner after her marriage to Brittney.
Reports had it that she attended Baylor University, majoring in Political Science and Government while minoring in Family and Child studies.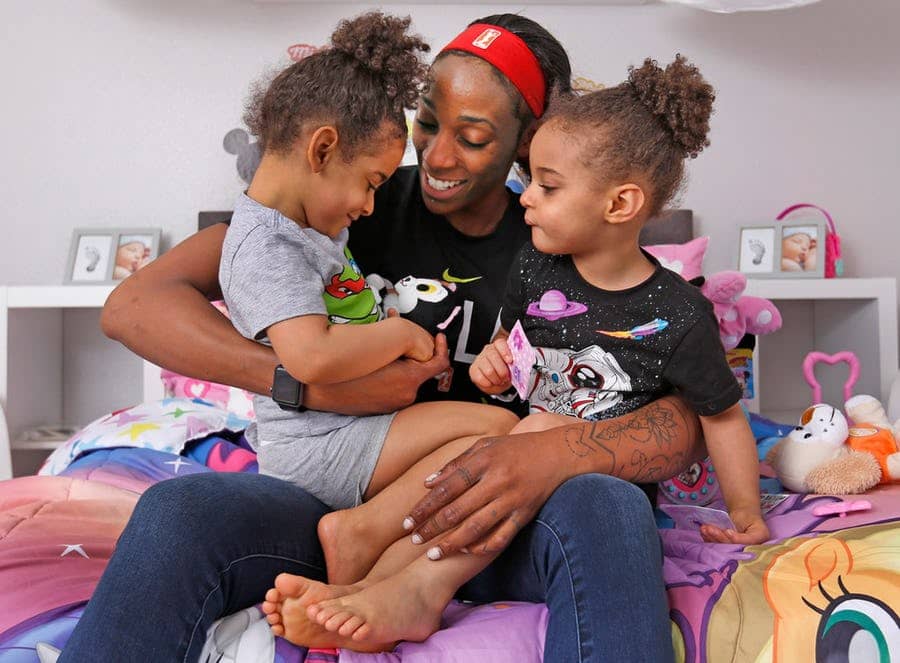 Brittney Griner's children
Brittney Griner is a co-parent of the twin girls Glory Johnson had through IVF. She has been paying for their support, though she has claimed not to have any biological connection with them.
The girls are named Ava Simone and Solei Diem respectively. Glory Johnson reportedly had them prematurely on October 12, 2015, at just 24 weeks.