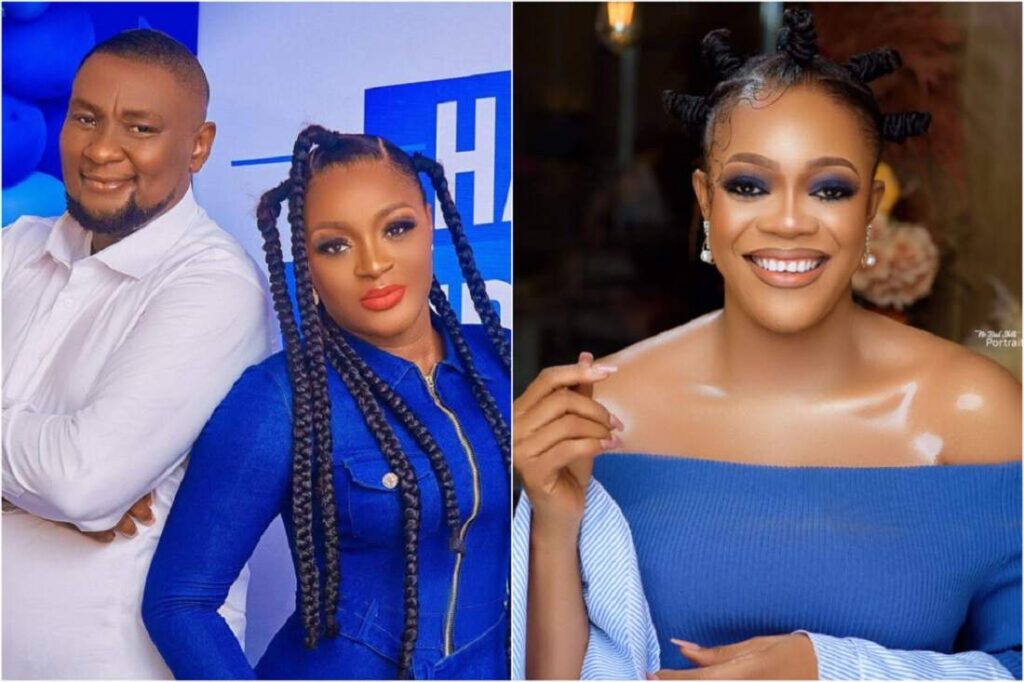 Nollywood actress Eve Esin has reacted to reports claiming that her colleague and friend Chacha Eke snatched Austin Faani from her.
According to controversial Instagram gossip platform called "Gistlover", Eve Esin was with Austin Faani before Chacha Eke allegedly "stole" him from her.
Part of the post from Gistlover reads:
Eve Esin brought her to asaba from ph to act, she was squatting with Eve because she just left her baby which she had for an older man in abakiliki then for port harcourt I am sure a lot of you don't know this part of her)When Eve brought her to Asaba, she didn't treat her well cos she was making everyone know she was her boss and orders her around…Making her carry her bags and all that when they are mates and acting on same movie set, Eve introduced her to Solo Amaco as that one in turn sleeps with both of them for roles , Eve was also the one knacking Austin then for more visibility.
Gistlover also alleged in their post that Chacha Eke's estranged husband, Austin Faani is gay. According to the controversial gossip platform, Austin was pimping out Chacha to wealthy men for monetary returns.
Austin was very calm, a home-oriented gay, and he kept her rooted. Then he dumped Eve for chacha, wey the matter cause fight then, Chacha was the new favourite, That was how they turned into a force of nature. Travelling to towns together to see men, chacha was a sensational already then, every ph militant and politician wants to do her. Austin goes with her as her manager, collects the dough, and sleeps in another room while his girlfriend entertains the paying customer. Then they go back home very rich and happy until oga Austin knack am belle, That was the beginning of their woes."
The blogger further stated that one of the men Chacha Eke was allegedly sleeping with for money is controversial Nigerian preacher, Apostle Johnson Suleman.
Then Apostle Suleman was also in the picture codedly , before you know it the news of their wedding broke out in Asaba, some of the men got really angry say chacha don run them street because he made them to be funding Austin too, funny thing be say all these men are married men oooo, after their wedding ,The PH militant got angry and promised to cause havoc ooo, them begin beg am ,few weeks after their wedding this Militant man cornered them and collected one of the cars he bought for them and left the FJ cruiser for them, that was how they started couples goals oooo, they gave birth and things was not the same way it used to be.
Reacting to the wild rumours, Eve Esin in a now-deleted post clarified that she has never slept with Austin Faani.
She wrote:
"FOR THE RECORDS: Firstly, I have never had any carnal knowledge of Austin Faani. Cha and Faani are my friends. Secondly, l never brought cha cha to Nollywood, we met on set and became friends. And lastly, Cha Cha never lived with me in PHC. A friend visits a friend. how did friendship translate to being a boss?"