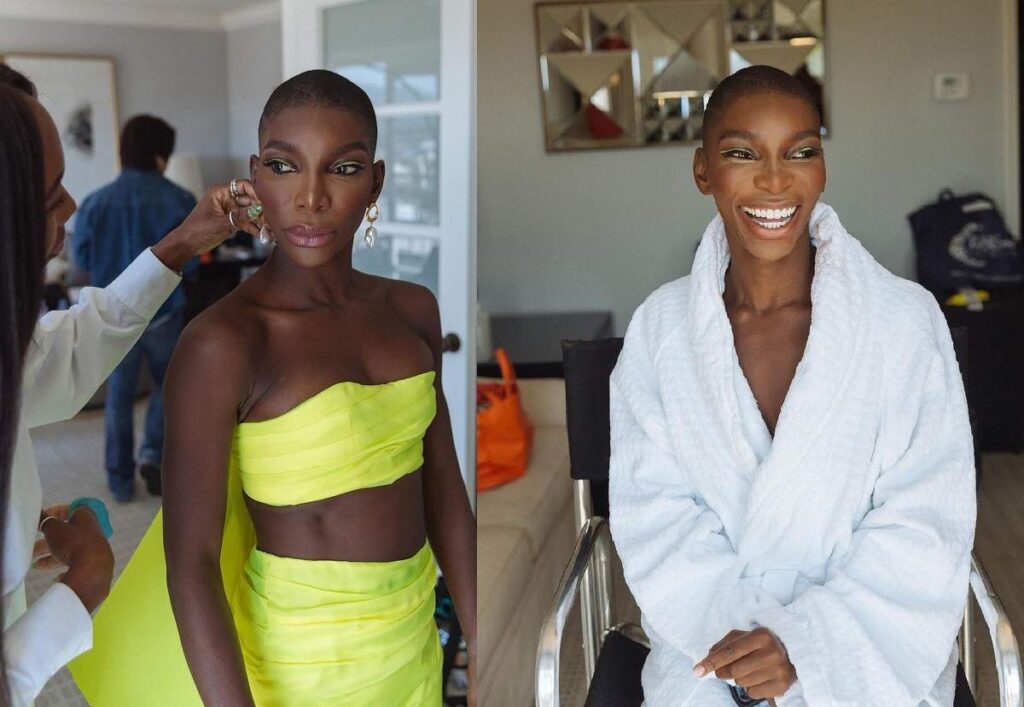 Who is Michaela Coel?
Michaela Coel is a Ghanian-born British actress, screenwriter, producer, and poet. She is known for creating the British TV sitcom, "Chewing Gum". Coel, who also played Tracey Gordon in the series earned the BAFTA Award for Best Female Comedy Performance. She also won the British Academy Television Award for Best Actress in 2021 for her performance in her self-produced limited series "I May Destroy You".
Michaela Coel's early life and education
Michaela Coel's full name is Michaela Ewuraba Boakye-Collinson. Born on October 1, 1987, to Ghanaian parents. Michaela is 34 years old as of August 2022. Coel began her early childhood education at a Catholic School in East London. She recounted how she was isolated in school for being the only black student in her age grade. As a result, Michaela resorted to bullying other children in her class. After her primary education, she moved to a comprehensive secondary school. Luckily, she wasn't isolated there.
In 2009, Michaela Coel bagged a degree in English Literature and Theology from the University of Birmingham, United Kingdom. From 2009 to 2012, the "Chewing Gum" actress attended the Guildhall School of Music and Drama. While at the drama school, Coel won the Laurence Olivier Bursary Award which helped sponsor her education at Guildhall. 
According to reports sighted by DNB Stories Africa, Michaela Coel was formerly very religious and also had a strong Pentecostal faith. In fact, the producer even practised celibacy growing up. However, after attending Guildhall, she quit practising Pentecostalism. Currently, she identifies simply as aromantic. 
Michaela Coel's parents
Michaela Coel's parents are Ghanaian immigrants to London. According to reports, Michaela Coel's parents were never married. In fact, they separated shortly after Michaela's birth. Michaela's mother is a former cleaner and fashion designer. She is also a graduate of psychology. Coel's father, on the other hand, remarried after he left the family. However, he never kept a distance from them. According to Coel, he always lived close by even though he was still an absentee dad.
Michaela Coel's siblings
Michaela Coel has two siblings – an older sister and a half-brother from her father's later relationship. Coel's older sister's name is Jasmine. The actress, alongside her sister, was raised in Tower Hamlets by their mother. Meanwhile, Coel has a beautiful relationship with her half-brother and his mother, who is also not married to her father. Coel recounted spending Christmases at her brother's house.
The actress said:
So I'll do Christmases at my brother's house with his single mum and their family.
Michaela Coel's wiki profile
| | |
| --- | --- |
| Full name | Michaela Ewuraba Boakye-Collinson |
| Place of birth | East London |
| Date of birth | October 1, 1987 |
| Age | 34 years old |
| Marital status | Single |
| Partner | N/A |
| Height | 1.65m |
| Occupation | Actress, producer, screenwriter |
| Net worth | est. $10 million |
| Instagram | @michaelacoelweb |
| Twitter | @michaelacoel |
How Michaela Coel started her career
In 2006, Michaela Coel started her career as a poet performing at open mic nights in Ealing, a district in West London. Her stage name then was "Michaela The Poet". Michaela's performance was so good that it caught the attention of English actor and playwright Ché Walker. Ché encouraged her to enrol at the Guildhall School of Music and Drama.
Three years later, Coel enrolled in the Talawa Theatre Company summer school program (TYPT). Also in the same year, the actress released her album "Fixing Barbie." In 2012, Michaela Coel produced her film "Chewing Gum" first at the Yard Theatre, Hackney Wick. And three years later (2015), it premiered on E4 and later on Netflix.
The sitcom formed the foundation for a lot of Coel's achievements in her acting career. The impact of "Chewing Gum" in her success story cannot be trivialized. Michaela Cole landed a minor role in the British crime drama series "Top Boy" in 2013.
In 2020, Coel starred in her self-written and produced black comedy series "I May Destroy You". Her impressive performance in the limited series earned her the Emmy Award for Outstanding Writing for a Limited or Anthology Series or Movie, making her the first black woman to win in such a category.
Michaela Coel's career took another major leap when was listed as Time's 100 Most Influential People in 2020. She also made the list of British Vogue's most influential women in the same year. The next year (2021), Coel was featured in Black Panther: Wakanda Forever, alongside Lupita Nyong'o.
In September 2021, Ebury Press Published Michaela Coel's first book titled, "Misfits: a Personal Manifesto". The book is based on her ordeals of misogyny and racism.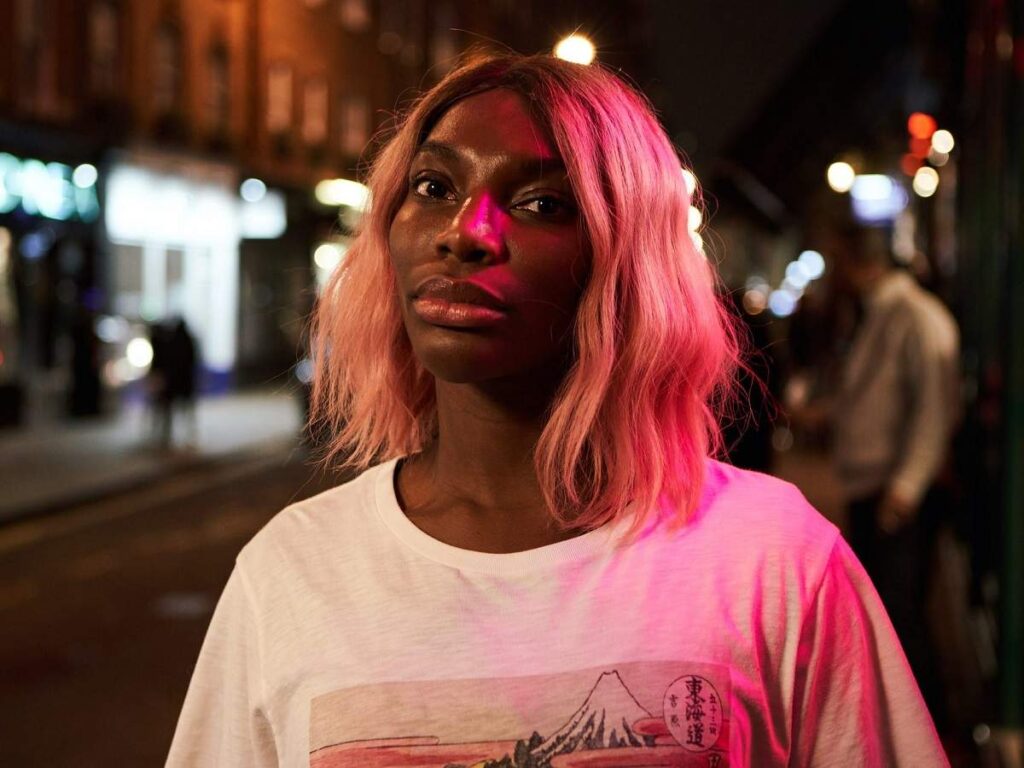 Michaela Coel's movies and TV shows
Michaela Coel has mostly starred in TV shows. So far, she has featured in over 10 TV shows. Some of Coel's outstanding movies and TV shows include:
Top Boy (2013)
Law & Order (2013)
London Spy (2015)
Chewing Gum (2015 – 2017)
The Aliens (2016)
Black Mirror (2016)
Been So Long (2018)
Black Earth Rising (2018)
RuPaul's Drag Race (2019)
I May Destroy You (2020)
Black Panther: Wakanda Forever (2021)
Michaela Coel's marriage and husband
As of the time of publishing this article (August 2022), Michaela Coel is not married and has no husband. While Coel is unmarried, she hinted in an interview in 2018 that she had a boyfriend. However, she prefers not to talk about him because she wants to protect his privacy. Coel also disclosed that she is aromantic and doesn't get flattered by romantic dates even though she likes "having intimate relationships." In fact, the British actress sees romantic dates and conventional weddings as a waste of money.
According to her, "It's a waste of money… Things like weddings and the expense of these things — I would rather settle for the rest of my life with a person."
Meanwhile, the actress has been romantically linked with fellow Chewing Gum star Kadiff Kirwan in the past. However, it turns out that Kirwan is gay and the two actors had only been just friends.
Michaela Coel's kids
Michaela Coel doesn't have any kids as of August 2022. In fact, she has no intentions of raising her biological children soon. Coel has hinted in an interview about her plans to freeze her eggs just in case her views on having children changes in the future.
The Ghanaian-born star explained:
"Sometimes I worry that I do not think about having children as much as I should, which is why, just in case I ever think about this more, I'm freezing my eggs."
However, Michaela also has plans of adopting children when it is right for her because she hates the idea of vaginal delivery.
Michaela Coel's net worth
Michaela Coel's net worth is estimated at over $10 Million as of 2022. Her flourishing career as an actress, writer, and movie producer remains her main source of income.