There are just many reasons models fall on runways.
The heels can be ridiculously high.
The runway is super slippery.

Models get nervous (the sea of eyes cast in one direction can be dispiriting).
The models may be hungry too. Models don't eat, at least not like the rest of us non-models do, I'm sure you already know that. When you sit down on the floor in your sitting room and spread your legs around that big bowl of eba and vegetable soup, do you honestly think you still have a chance at becoming a model?
Models falling on the runway is not particularly new — even top models like Naomi Campbell have had their moments.
One of Campbell's most talked-about runway moments is her infamous fall in sky-high platforms during Vivienne Westwood's fall show in 1993.
Just this year, 72-year-old actress Susan Lucci found herself tumbling down the runway at the American Heart Association Red Dress Collection Fashion Show in New York City.
Lucci looking stunning in red was giving one of the most impressive walks of her life when her moment was briefly cut short.


Lucci stepped on her dress, causing her to fall down. The veteran actress was praised for her comedic approach to the fall and the entertaining way she got back on her feet.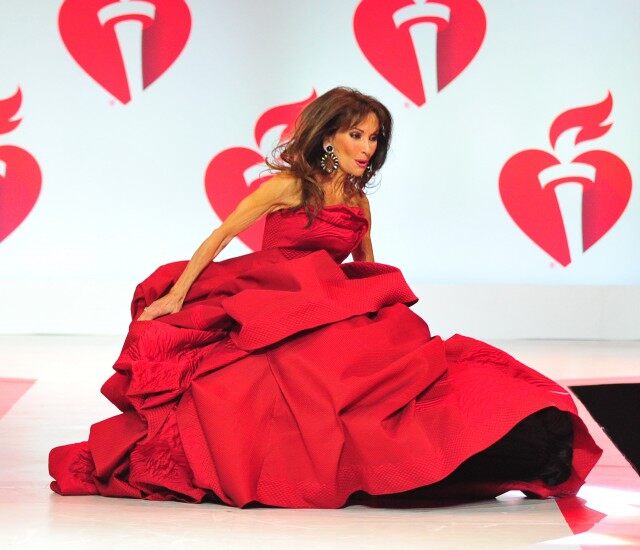 Wobbling on heels is not only seen in international fashion shows.
At the ongoing 2019 Lagos Fashion Week, one of the models couldn't keep steady as she continues to wobble and tremble in her tall heels.
Her platforms eventually had to be changed but, still, no remedy was seen.
Girl was just set for the fall. For the sake of good faith, we won't be mentioning any names.
Watch the video below:



Credit to Ethan for this video.


***


NOTE:


The front picture is not from Lagos Fashion Week.


It is the picture of a model that lost her balance on the runway at Seccry Hu Sheguang's show in March 2014, during the Mercedes-Benz China Fashion Week in Beijing.