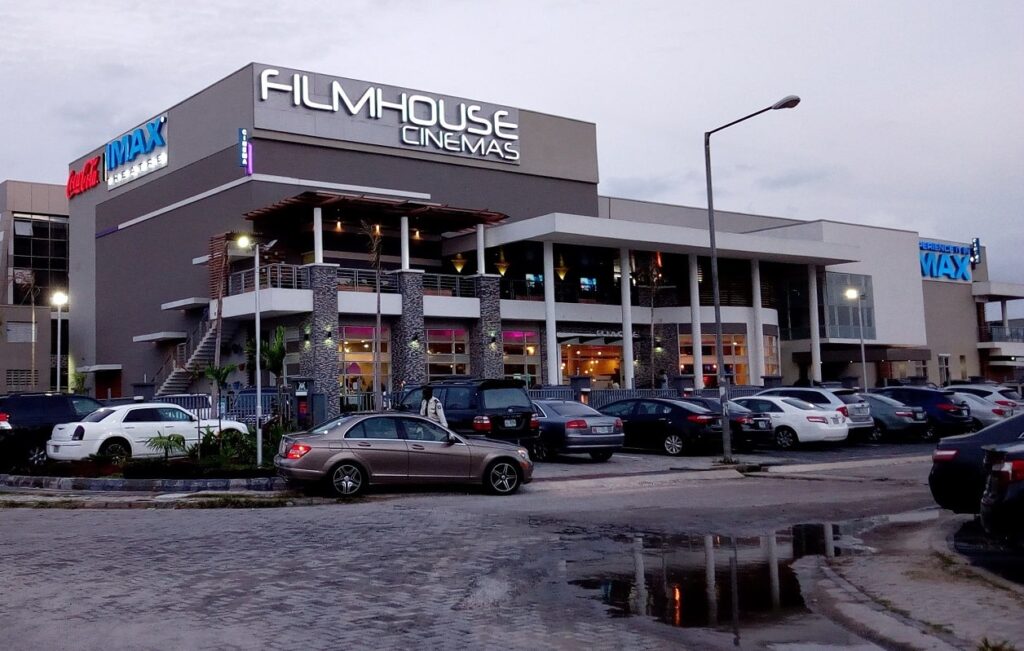 This post is for the full address and easy location of Filmhouse IMAX Cinemas, Lekki. Read on to see how to get straight direction to IMAX Lekki.
What is IMAX?
IMAX Corporation is an American-Canadian theatre company that specializes in installing large-format movie theatre experience. There are IMAX theatres in over 80 countries around the world today and most of these theatres operate in partnership with other existing local cinemas in the country. The IMAX difference is seen in its high-resolution and ultra-realistic movie-viewing experience.
When did IMAX Cinema come to Nigeria?
Nigeria's first IMAX theatre was established on the 9th day of September 2016. IMAX came to Nigeria through a collaboration between the existing Filmhouse Cinemas Limited and IMAX Corporation. Today, the IMAX Cinema in Lekki boasts the largest cinema screen in Nigeria. The IMAX movie-viewing experience is considered "premium" due to its ultra-modern facilities and sophisticated theatre style.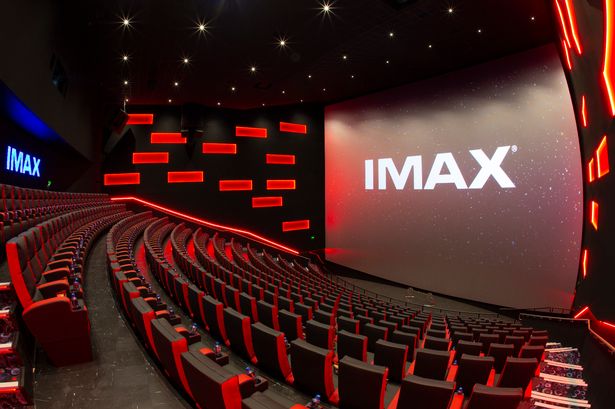 Where is IMAX Lekki located?
The Filmhouse IMAX Cinemas is located in Lekki Phase 1. The exact address of IMAX Lekki is The Rock Drive, off Bisola Durosinmi Etti Drive, Lekki Phase 1.
IMAX Lekki is a 20-minute drive from the Lekki Conservation Centre and just 10 minutes away from Elegushi Royal Beach.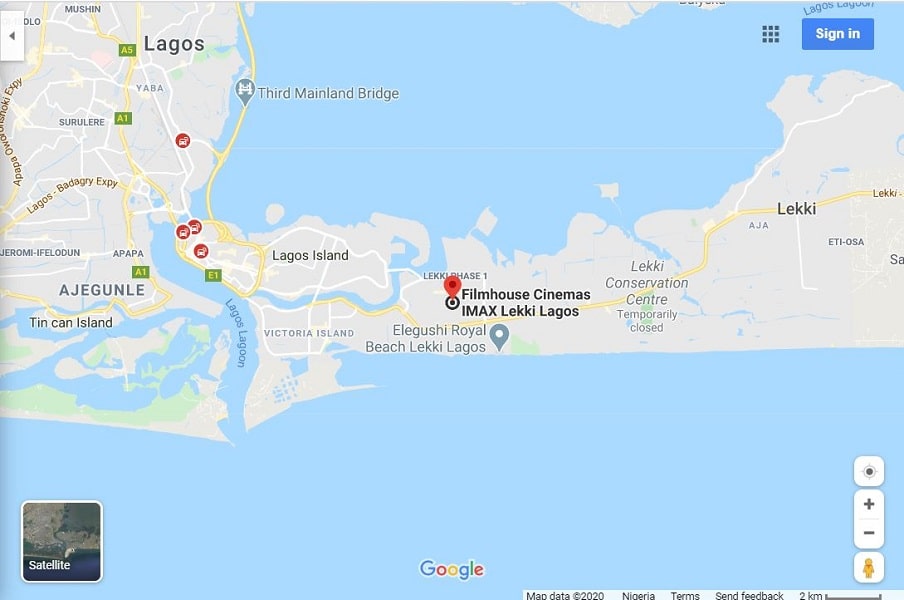 Image: A map showing the direction to IMAX Cinemas in Lekki Nigeria
The IMAX cinema screen is 28 meters long (the largest in Nigeria) and the theatre can seat up to 339 people. The technology is full 3D with impressive lights and images projection. You can also opt for the 2D experience at a lower price.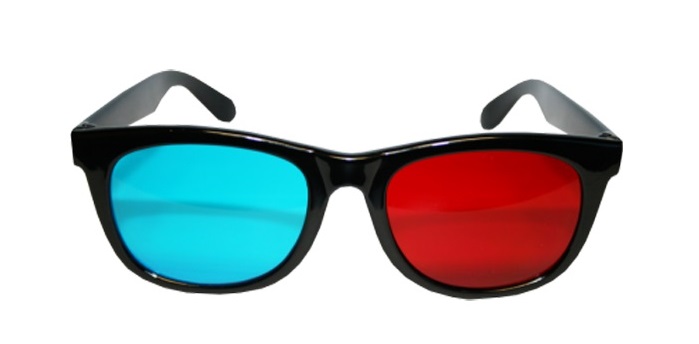 Special 3D viewing glasses are provided at IMAX Lekki at an additional cost of N500 for an optimal viewing experience.
Apart from the central IMAX screen, the Filmhouse IMAX facility has 4 other screens – two regular 75-seater screens and another two private screen theatres.
Collectively, all the theatres can house up to a thousand moviegoers at a time.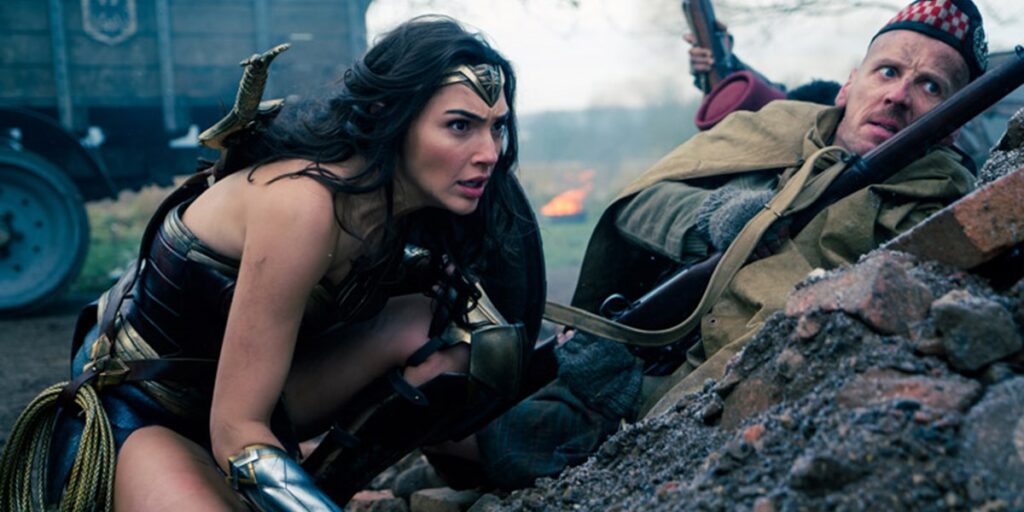 What are the opening hours of IMAX Lekki?
Filmhouse IMAX Cinemas opens from 10 am to 12 am on weekdays (Mon – Fri).
On weekends (Saturday and Sunday), the cinema opens from 10 am to 2 am.
Movie ticket prices at Filmhouse IMAX Cinemas Lekki
IMAX Lekki offers both 2D and 3D viewing experiences.
Adults: 2D is N3000 and 3D is N3500
Children: 2D is N2000 and 3D is N2500
Prices for the Filmhouse Signature theatre are different. The Signature Theatre is a 33-seater private theatre usually reserved for corporate or personal events.
Ticket prices for the Signature theatre cost N3000 flat on weekdays (Mon – Thurs), excluding public holidays. This charge also comes with a complimentary drink.
On Weekends (Friday – Sunday), ticket prices for the Filmhouse Signature Theatre cost N5000.
The two regular theatres that seat 75 people are called Premium 1 and 2. Ticket prices for each cost N2000.
The 3D glasses costs N500 per one.
Filmhouse IMAX Cinemas Lekki holds a big discount promo on Wednesdays. Referred to by the hashtag #1KWednesday, customers are to pay the discounted price of N1000 only for tickets.