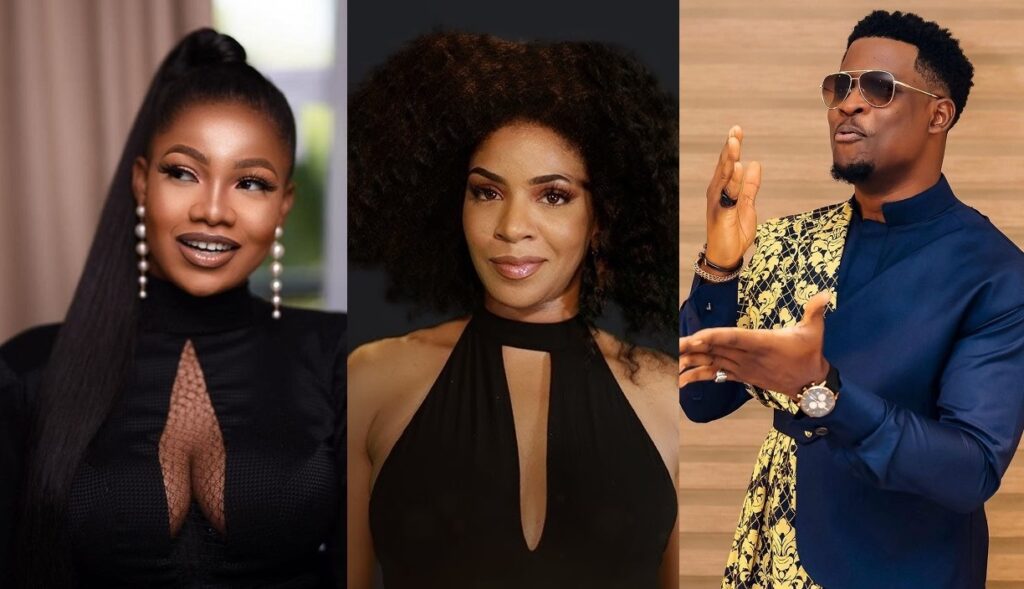 Last night's BBNaija Pepper Dem Reunion show was all about things said and done in the house that didn't go down well with other housemates.
The episode started with Ike and Joe who had sort of a strained relationship in the house the short while Joe stayed before his eviction. Ike recalled that Joe "irritated" him in the house with some of his actions. Joe later explained what he understood to be the cause of Ike's annoyance with him. According to Joe, Mercy would play him in the house and would later go to tell Ike that Joe and other guys wanted her. The comment created a round of laughter in the room and even Ike admitted that Joe is a funny nuthead.
The discussion moved to Tacha and Seyi and the issue of Seyi calling Tacha a "puta" was brought up. Tacha recalled the word which she explained meant "a prostitute" was very offensive to her. She also accused Seyi of being a sexist.
Seyi on his own part admitted that "puta" was not a good word to use on somebody, explaining that the word is actually Spanish for "female dog" – which still didn't make it less offensive.
Seyi also brought up the condescending things Tacha told him during their famous argument in BBNaija house – the time Tacha said he (Seyi) could not dream of achieving what she had already achieved at 23 years old. Seyi went on about how he could have said other hurtful things to Tacha too, or belittled her with his own achievements too but chose to let it slide.
Seyi reminded Tacha of calling people stupid in the house to which Tacha strongly denied, saying "Nobody will say Tacha has ever called anybody stupid – I would never use an insultive word at anybody."
Venita and the other housemates including the show's host Ebuka expressed shock over Tacha's claim that she never called anybody stupid in the house.
Seyi agreed that he is a meninist and feels proud of his masculinity. He admitted that sometimes his ego gets a better part of him. He also recalled Tacha once snubbed him on her birthday when he tried to reach out to her.
Seyi later "genuinely" apologized to Tacha and she accepted.
Before then though, Tacha had earlier apologized to Venita over "what she said" about her in the house. Venita was getting a little emotional while she expressed her gratitude that Tacha finally apologized to her.
Venita's reaction probably triggered Tacha to confirm it was what she said that she heard. And from there a minor debate about what exactly was said ensued. Venita tried to tell Tacha to let it go and not ruin the apology but Tacha insisted she would like to clear things because they were on TV.
Ebuka asked Venita what Tacha said about her exactly and Venita said she would not want to say it because it involved kids. Tacha went ahead to state that the only thing she said about Venita in the house was on the night Venita was evicted and she said "Let her go home and rest. She looks stressed."
Venita countered this, saying that what Tacha said was "She should go home and take care of her two kids." Venita said it is not nice to make fun of any woman's mothering because motherhood is personal.
Tacha denied ever making such a statement, reiterating that she would never have talked about Venita's children. There was a little back-and-forth between Tacha and Venita but they eventually decided to let it go.
One of the closing highlights of the episode is Venita reminding everyone that she is a happily divorced 33-year-old mother of two to which Tacha clapped and hailed her.