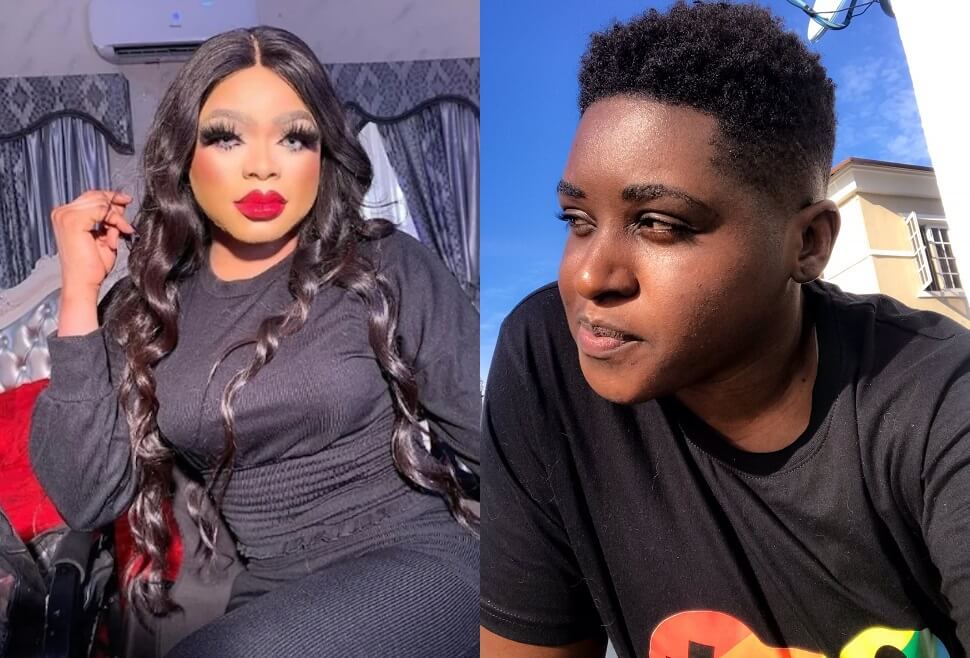 LGBT activist and filmmaker Pamela Adie has criticized journalists and media organizations interviewing famous Nigerian cross-dresser Bobrisky.
Pamela Adie said media houses are using Bobrisky as a tactic to trend.
"When media houses want to trend they pick Bobrisky. It's a tactic that works every single time. Sigh," the LGBTQ rights advocate wrote on Twitter.
Adie also sympathized with Bobrisky who she described as "vulnerable" and being used by Nigerian media houses to "reinforce negative stereotypes and portray LGBTQ people as a bunch of 'confused' people".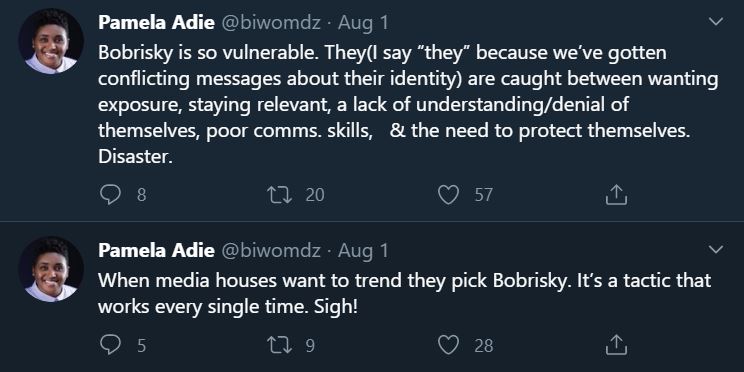 Pamela Adie's statements came following Bobrisky's recent interview with media personality Dele Momodu where the 28-year-old cross-dresser denied being a transgender or gay person.
Answering questions about his sexuality and gender identity, Bobrisky to Dele Momodu, "[I am] not trans. [I am] a crossdresser. Wearing makeup, making hair, looking this way doesn't make me a gay."
Bobrisky during the Instagram Live interview denied being gay or bisexual, despite having shared photos and love messages he had with a male lover online.
Activist Pamela Adie said that if Dele Momodu had really wanted to learn about transgender issues or LGBTQ people, he should have interviewed any of the LGBTQ activists in Nigeria who are knowledgeable about the topics.
Pamela Adie said, "If Dele Momodu really wants to learn(I doubt he's really interested anyway) about trans issues, or LGBTQ people, there are activists in Nigeria who can speak knowledgeably on these topics. Why not speak to one of them? It's shameful that even he would stoop so low just to trend."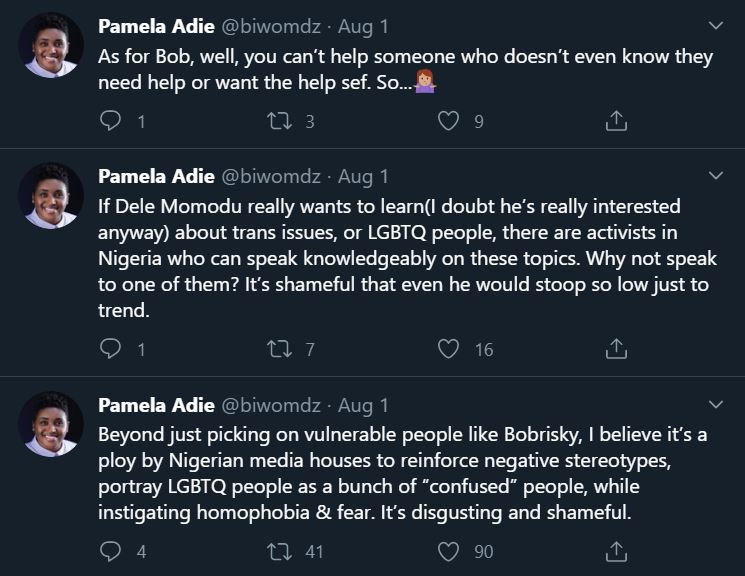 Pamela Adie is an LGBTQ rights activist and filmmaker known for producing the controversial queer movie "Ife" based on a lesbian love story.
The National Film and Video Censors Board (NFVCB) has been criticized for saying it will go after the producers of ÌFÈ the move if it gets released in Nigeria.