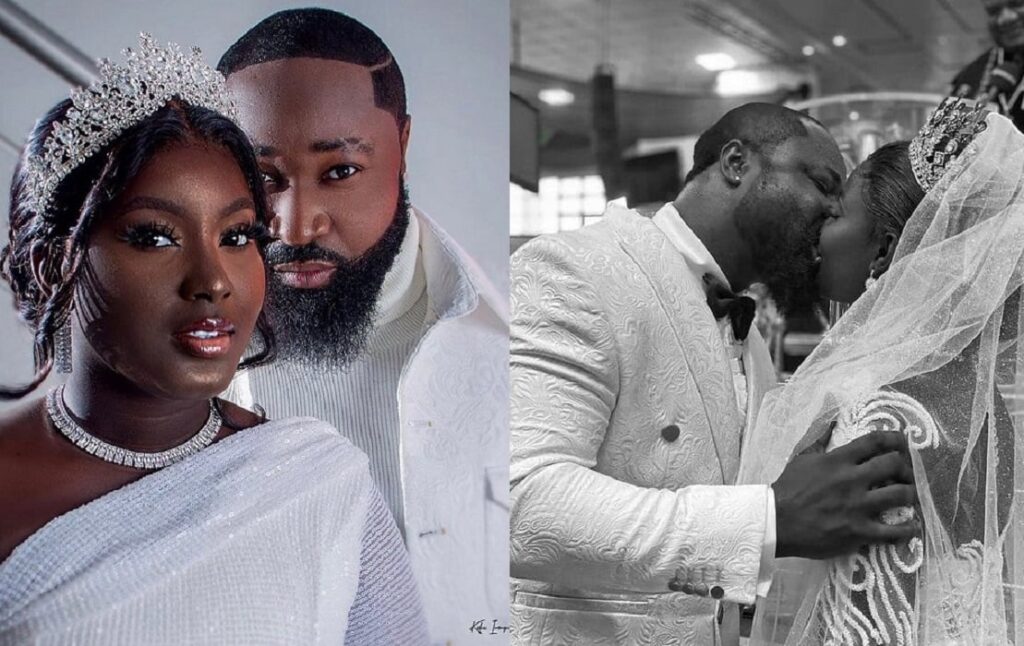 Who is Harrysong?
Harrysong is a popular Nigerian singer, songwriter, and instrumentalist whose real name is Harrison Tarela Okiri.
Harrysong rose to stardom after he released a tribute song to Nelson Mandela in 2012. The tribute song titled "Mandela" won the Most Downloaded Callertune Award at the 2013 Headies Awards ceremony.
Harrysong moved to Lagos in 2007 to pursue his music dream. He was performing as the lead singer of a live band in a nightclub before he met Nigerian musician, Kcee, who introduced him to top music personalities.
Following the success of his Mandela tribute, Harrysong released a chart-topping song titled 'Beta Pikin' in 2014. Harrysong is also widely known for his viral 2015 single, "Reggae Blues".
Harrysong's marriage, engagement and wedding
Nigerian singer Harrysong is happily married to his longtime girlfriend and baby mama, Alexer Perez Gopa (sometimes also spelt as "Peres").
Harrysong and Alexer Perez Gopa were falsely reported to have had a set of twins in 2017, before their eventual marriage four years later, in 2021.
Some fans of the singer had thought then that the marriage plans were a publicity stunt.
Harrysong shocked the doubting Thomases when he took to his Instagram page on Thursday, February 4, 2021, to share his pre-wedding photos and an invitation card that included all vital information for his wedding ceremony.
The caption on the photos reads:
"All shades. I got it perfect this time. March 27th at the KFT event center, Warri, Delta State.
Who is Harrysong's alleged first wife?
Former beauty queen, Harriet Edide, also known as Finiee, was the rumoured first wife of Harrysong.
It was reported in some blogs that Harrysong and Harriet Edide (Finiee) wedded in 2016 but the marriage was cancelled after both parties discovered their blood group was AS.
However, Harrysong later denied the allegation that he and Harriet Edide got married, saying that it never happened.
According to him, Harriet was his ex-girlfriend with whom he was planning to get married, but that dream was cut short as they found out they were both of AS blood type.
The singer said that the reports of him getting married secretly only happened in the imagination of the reporter who spearheaded such a rumour.
About Harrysong's new wife, Alexer Perez Gopa
Alexer Perez Gopa is the newly wedded wife of Harrysong. She had been the baby mama of the singer for four years before they walked down the aisle on March 27, 2021, at the Church of God Mission Praise Centre at Jakpa Junction, Warri, Delta State.
Alexer Perez Gopa is a model, brand ambassador, and entrepreneur from Bayelsa State. She is the mother of Harrysong's first child and daughter, Daviva.
Harrysong's children and twins controversy
Harrysong and his new wife, Alexer Perez Gopa, were previously reported to have had a set of twins in 2017 before they eventually got married four years later, in 2021.
According to these earlier reports, the twins were born on June 22, 2017, at a hospital in Beverly Hills, California, USA and they were reportedly named after their parents – Perez from his wife's middle name 'Perez' and Tare, from Harrysong's name 'Tarela'.
However, on January 1, 2022, Harrysong shared on social media that the earlier reports of him welcoming twins in 2017 were false as his then-girlfriend had lied to him.
According to Harrysong whose real name is Harrison Okiri, the child he and his wife welcomed on December 9, 2021, is his first child.
UPDATE
Harrysong and his wife, Alexer Perez Gopa, welcomed a baby girl named Daviva, on December 9, 2021. The baby was born in Malta, as announced by the proud dad.
Harrysong has now confirmed that Daviva is his first child.
List of Harrysong's children:
Perez (boy) ❌
Tare (girl) ❌
Daviva (girl) ✔️
About Harrysong's ex-girlfriend and rumoured first wife, Harriet Edide
Harriet Edide is the ex-girlfriend of Nigerian singer Harrysong who was also rumoured to be his first wife.
Harriet Edide is also known as Finiee – she is the CEO of a clothing brand called Finiee Couture in Yenagoa, Bayelsa State.
Harriet Edide won the 2013 Miss Bayelsa pageant contest and was crowned Miss Niger Delta in 2014.
Following her separation from Harrysong due to medical reasons, Harriet Edide is now happily married to ex-militant and politician, Joshua Maciver who she dated for almost two years.
It was heard that Harriet became the second wife of the politician after they had a traditional wedding in December 2017.