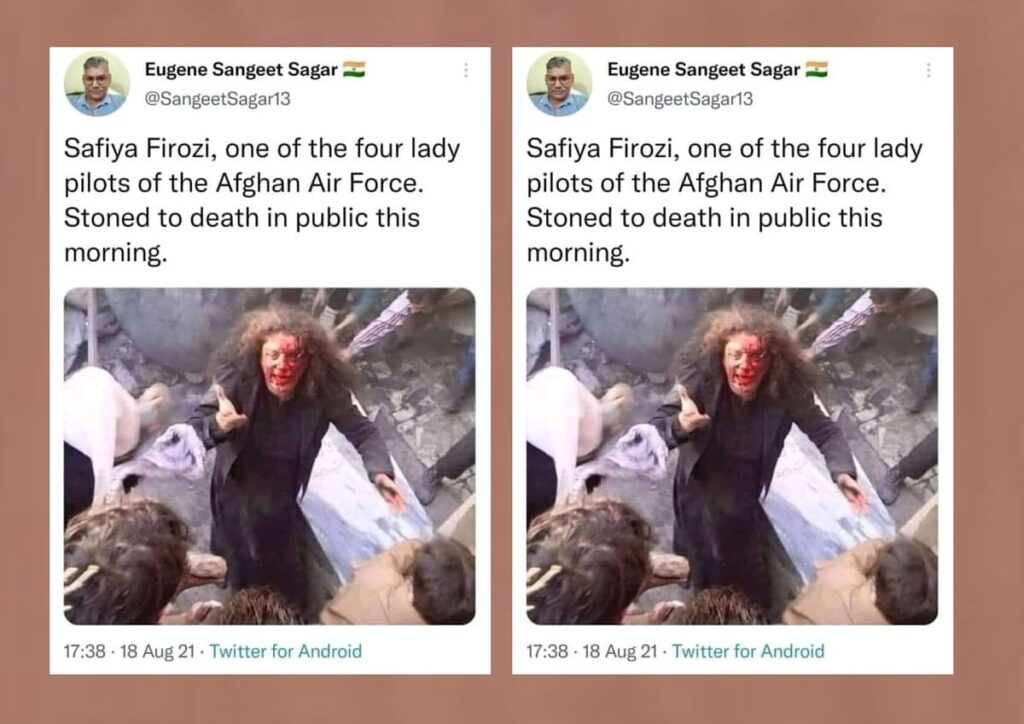 A story of a female Afghanistani pilot named Safiya Firozi (or Safia Firoze in some reports) has gone viral on social media.
The post probably first appeared on Facebook, as revealed by timestamps from our enquiry, and soon spread to Twitter and other platforms including Instagram and Whatsapp.
One of the Twitter posts on the Safiya Firozi lynching story reads:
"Safiya Firozi, one of the four lady pilots of the Afghan Air Force stoned to death in public this morning".
According to the story, Safiya Firozi was lynched by Taliban forces after they took over Afghanistan. The viral Twitter post was made on August 18, 2021.
Fact-checking the Safiya Firozi story
According to fact-finding by the DNB Stories Africa editorial team, the viral story of Safiya Firozi being lynched by Taliban forces in Afghanistan is FALSE.
We got suspicious after noticing that no reputable press has carried the news.
Using Google's reverse image search technology, our team discovered the image of the bloodied lady being circulated in posts has been on the internet for at least 6 years, most likely since 2015.
Digging further, we found that the New York Times published a video on December 26, 2015, reporting the atrocious killing of a 27-year-old Muslim woman named Farkhunda Malikzada who was accused of burning a Quran.
The original New York Times post reads:
"Farkhunda Malikzada, a 27-year-old Muslim woman falsely accused of burning a Quran, was killed by a mob in central Kabul as hundreds watched and filmed."
The post added a warning that the video contains "scenes of graphic violence".
A closer look at the video showed that the face of the woman in the video matched the one in the viral posts. The image purported to be that of Safiya Firozi is actually Farkhunda Malikzada, an innocent woman who was killed by an angry mob in Kabul, the Afghanistan capital in 2015 after she was accused of burning the Quran.
The gruesome killing of Farkhunda Malikzada sparked intense outrage throughout Afghanistan between 2015 to 2016. The Farkhunda monument was built in Kabul, the country's capital to honour the innocent woman.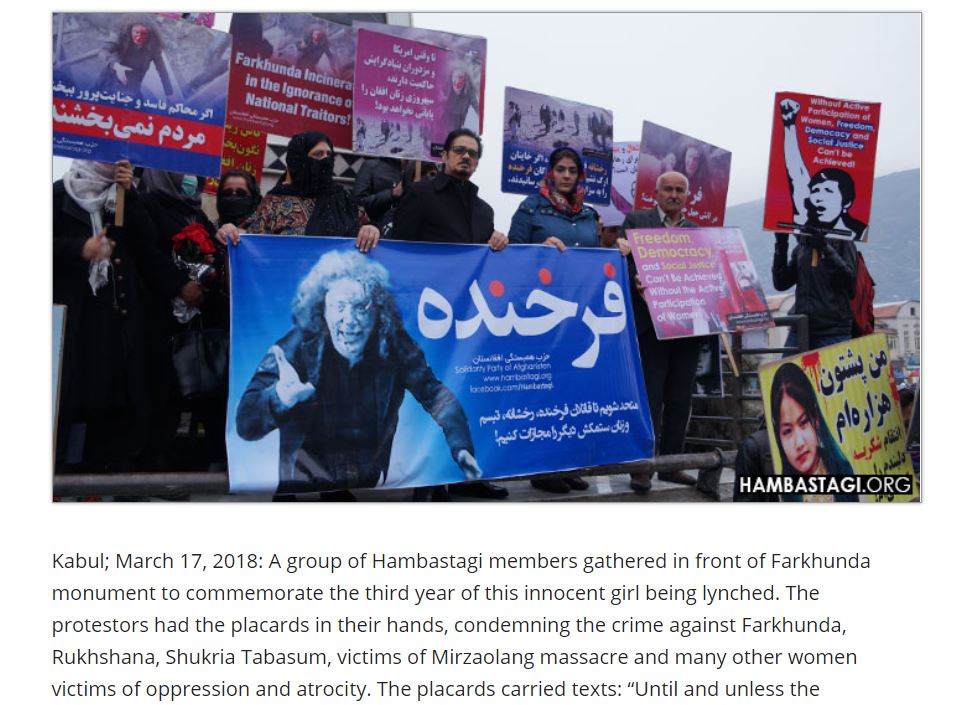 Another news report of 2018 by the Afghan local press, Hambastagi.org, narrated that "a group of Hambastagi members gathered in front of Farkhunda monument to commemorate the third year of this innocent girl being lynched."
Conclusion
While we found that the viral story of female pilot Safiya Firozi being stoned to death by Taliban forces in Afghanistan is false, the image still represents a real sad event involving another Afghanistani female who didn't deserve to die.