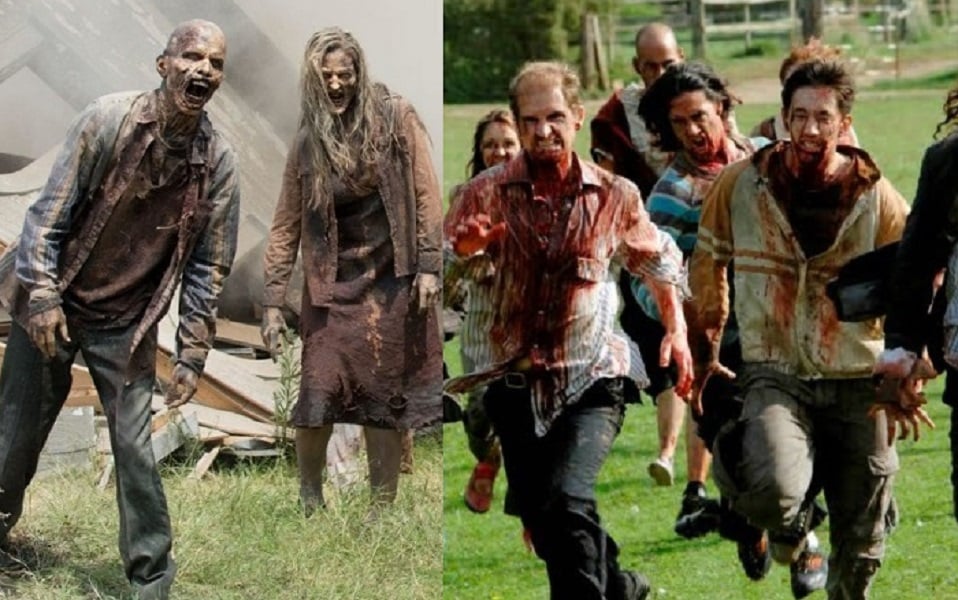 There has always been the contention of which is scarier between slow-moving zombies and fast-moving ones.
While fast-moving zombies easily look the scariest with all the hunger and rush, slow zombies, sort of, represent more hopelessness – the gloom of a world that is long gone.
Fast zombies usually still look red and a bit human, but seeing a slow-moving with most of its body rotting away brings full-on the creepiness of death and rot that zombie movies are known for.
Below is a list of 10 best movies and TV series with slow-moving zombies compared to fast-moving ones:
| | | |
| --- | --- | --- |
| | Fast Zombies | Slow Zombies |
| 1 | World War Z | The Walking Dead |
| 2 | All Of Us Are Dead | Z-Nation |
| 3 | Train To Busan | Zombie 2 (aka Zombi) |
| 4 | Zombieland | I Walked With A Zombie |
| 5 | Army Of The Dead | Cemetery Man (aka Dellamorte Dellamore) |
| 6 | 28 Days Later | Shaun Of The Dead |
| 7 | REC | Dawn Of The Dead (1978) |
| 8 | I Am Legend | Night Of The Living Dead |
| 9 | Cargo | Day Of The Dead |
| 10 | Quarantine | The Return of the Living Dead |