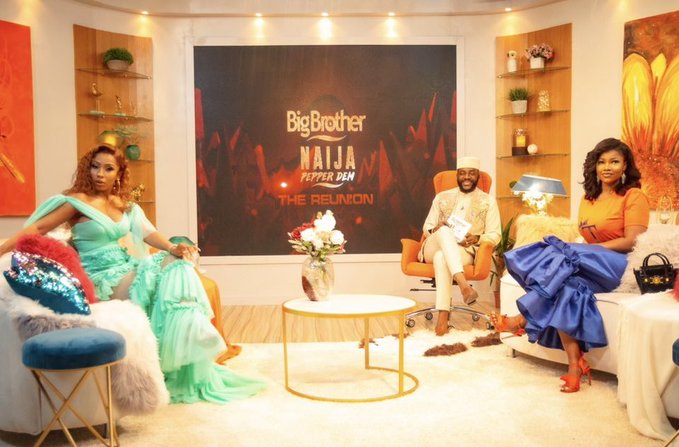 Tonight's episode of the BBNaija Pepper Dem Reunion show was between the two big giants of the show – Mercy Eke and Tacha.
Mercy Eke, the season's winner and Tacha, one of the season's strongest contenders before her unfortunate disqualification, sat together with show's host Ebuka to iron out their differences.
Since the show, there's been some kind of tension between Mercy and Tacha. For one, though both women have successfully amassed a great level of fandom after the show with their social media following running into millions, neither of the two women's fans mix.
Mercy's fans called mercenaries frequently clash with Tacha's clan of Titans on social media.
The two women also personally engage in a subtle war of 'shades' on social media from time to time.
It was their last fight towards the end of the show that got Tacha disqualified. That Mercy and Tacha fight remains the most epic highlight of that season of Big Brother Naija.
During tonight's episode of the BBNaija Pepper Dem Reunion, with just Mercy and Tacha in the room, Mercy opined it would be better to have a heart to heart conversation off-camera.
Tacha agreed to this, saying: "I'm open to Mercy and I having a conversation behind the cameras. I don't even need to say too much about myself because I've gone through a lot to get to where I am."
Tacha, who has remained graciously composed since the Reunion (a striking contrast to her attitude on the show), agreed she was ready to end the fight and make peace with Mercy.
Mercy also declared she doesn't want to fight Tacha, stating that she is doing good.
Mercy revealed the reason she blocked Tacha on social media was because she didn't want to be seeing her subs or shade.