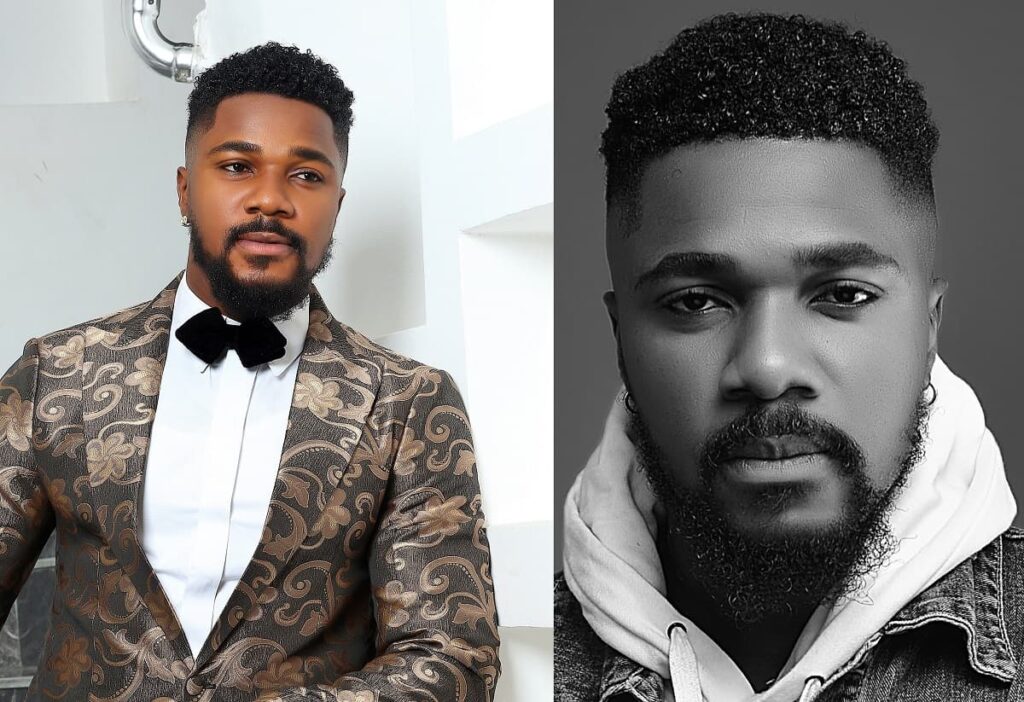 Nollywood's new talent Christian Prince Ochiagha clearly had such a busy year in 2021, featuring in a number of important projects in the year, including one of the year's top-anticipated films "Captain Myth" where he starred alongside Nollywood veterans Nkem Owoh and Kanayo O. Kanayo.
Yet he still managed to create time to work on his own project – his very own first production. Ochiagha's first self-produced short film "SHAM" was released on January 6 this new year and it has been raking in awesome reviews from his fans and movie lovers alike.
SHAM currently streams free on YouTube and today, Christian talks to the DNB Stories' team about the project and how his journey in the industry has been.
Team: Nollywood's latest producer!
Laughs. A dream come true.
Question 1: Really, it feels good to see young talents such as you breaking new grounds in the industry. Before we dive right into it, not like you still need an introduction at this point, but just tell us by yourself – Who is Christian Prince Ochiagha?
Christian Prince Ochiagha is an actor, model, event host, vocalist and, officially, now a movie producer! I'm 31 years old! A graduate of Materials and Metallurgical Engineering from Nnamdi Azikiwe University, Awka, Nigeria. I'm a son of God and a product of grace with a purpose in life, which is to succeed in whatever I do and wherever I find myself.
Question 2: Talk to me briefly about your journey in Nollywood? Is acting what you've always dreamed to do?
My journey in Nollywood hasn't been an easy one. Series of challenges with family, life, financial, mental and otherwise. Sometimes I will want to give up, but on remembering the support I've received from a few friends and close pals, I will have to pick myself up and keep fighting. I will fight to the very END! Growing up, I've always had a passion for art (dance, choral, theatre groups, etc). At first, I didn't have plans for Nollywood but life happens! Life challenges would make one discover his or her potential and that was the case for me and I'm on a journey towards maximizing that potential.
Question 3: What drives your passion for the craft? It's always easy to see from scenes of your movies that you fit well on the screen.
You know that feeling where you watch people sit and enjoy films! Analyze them. Express their joy and pour out their hearts after seeing a movie. That is my passion there, to be the reason why they see a movie and be happy about it. It's such a fulfilling experience.
Question 4: Now, let's talk about SHAM? Where did the inspiration come from?
I will give credit to the director of SHAM. Because he was the one that actually proposed and sold the idea to me. I liked it and I bought into it. Then I told him, you know what let's make SHAM!
Question 5: Is the story personal to you in any way?
Yes, it is personal but I wouldn't want to go into details. I hope the readers respect that. Then again, incidences of failed relationships and marriages have become scary and a thing of concern to me. After reading the script of SHAM, I saw the need to share this story and let people know why we keep having such repeated scenarios or mistakes in relationships all the time. We often overlook little details that are very important in a relationship and proceed to marriage. I hope God helps us all. Last! Last! E no easy! Laughs…
Question 6: What challenges did you face producing your very first film?
Financial challenges, of course, would come first. Especially, when the project is self-funded. Secondly, it's not easy to produce a movie and star in it as well! In my case, not only did I produce, I starred in it and was also the production manager, self costumier, props person, etc. Laughs. Anyway, thank you, Lord. Kudos to all the filmmakers out there who not only produce but star in their own films.
Question 7: You picked Chioma Okafor as co-star – what motivated the choice? I mean, was it a straight decision or you had other options but eventually had to pick her?
To be honest, planning for SHAM, Chioma OKAFOR was not in the picture. The actress I had in mind wasn't available at the time of the shoot. I had to make a quick decision, a decision to cast an actress with depth and a fantastic range of emotions. I prayed over it and immediately after my prayers, the first name that came out of my mouth was Chioma Okafor and I went for her.
Question 8: Nollywood filmmakers are often criticized for starring in movies they produced themselves – What do you have to say about that?
Nothing! Absolutely nothing! People will always talk, after all. ??‍♂️
Question 9: Tell me about White Wolf Productions – Do you own the production company?
Yes. I'm the creative director and founder of White Wolf Productions! Registered under the "Companies Allied Matters Act" in 2020.
Question 10: So you are also a CEO. Interesting!
Laughs. By God's grace.
Question 11: SHAM was released on January 6. We learnt that was also your birthday. Why did you pick the date?
Birthdays signify a new era. So it is for SHAM as a new era being born on my birthday to always remember.
Question 12: In your own opinion, what do you think are the biggest challenges young producers face in Nollywood?
Return On Investment! In Nigeria, when you produce a film for say N5 million, you take it to pay-TV stations and you're told matter-of-factly that you will be given a N2 million, one-off payment. You are inwardly offended, but you have no option than to accept it. You give them the film, collect the money and walk away, crying bitterly inside your heart, because you have lost an entire project without an alternative means of recouping your cost. Inadequate funding is another major issue, leading to shoestring budgets in movie productions.
Question 13: What are you currently working on. Any future projects lined up?
Fingers crossed ?
Question 14: Let's move a little from serious talks? Are you married?
Laughs. No!
Question 15: Currently seeing anyone?
Undisclosed.
Question 16: You are often cited as one of Nollywood's hottest young actors? How does that make you feel?
Isn't that flattering? Makes me laugh and blush to be honest.
Question 17: Who is your biggest crush in the industry?
Laughs out loud. I can't hold back or deny it – I admire Lady Genevieve Nnaji so much.
Question 18: Who is your biggest idol in Nollywood?
The legendary Ramsey Nouah, Uncle Richard Mofe Damijo, Femi Jacobs and Gabriel Afolayan. The way they interpret their roles in movies is always refreshing.
It was nice chatting with you, Mr Ochiagha. Please say a little shoutout to your fans and supporters who may be reading this.
A big thank you to YOU! Yes, YOU reading. You're part of the reasons why The 'Christian Prince OCHIAGHA' brand is growing and I will forever remain grateful.