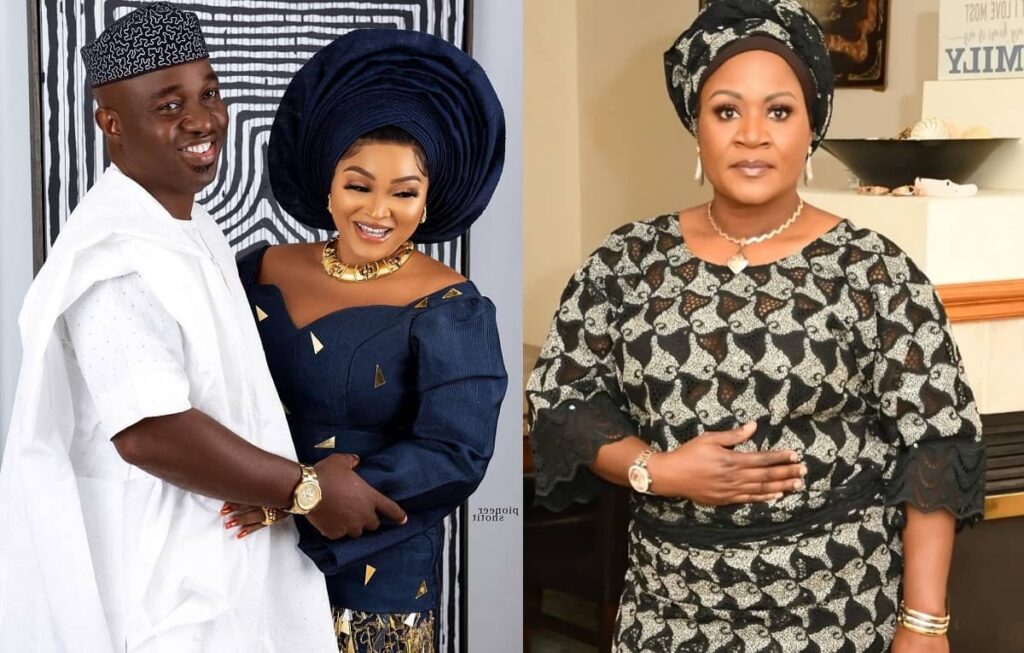 Nollywood actress Mercy Aigbe made controversial headlines in January 2022 after photos of her traditional wedding to businessman and filmmaker Kazim Adeoti surfaced online.
The controversy stemmed from reports confirming that Mercy Aigbe's newly wedded husband, Kazim Adeoti, is already a married man with four children.
Kazim Adeoti's first wife
According to information gathered by DNB Stories Africa, Kazim Adeoti's first wife is Mrs Oluwafunsho Adeoti. She is a successful fashion designer and businesswoman based in Minnesota, U.S. Oluwafunsho is the CEO of Asiwaju Couture, a fashion brand specialized in African clothing.
Mercy Aigbe's marriage saga
Mercy Aigbe, a two-time divorcee, is no stranger to marriage controversies and relationship scandals. The 44-year-old actress has suffered snide comments of being a husband snatcher and home breaker from the media ever since her marriage to Kazim Adeoti was announced.
In an attempt to set things straight, Mercy Aigbe and Kazim Adeoti granted an interview with Media Room Hub on Thursday, March 3, 2022.
During the interview, Kazim Adeoti reaffirmed that he was not snatched by Mercy, adding that being a Muslim allows him to take more than one wife.
He said:
"She didn't snatch me, I'm a full-grown adult. My family is in the US and I shuffle between US and Nigeria but we are good together, not separated and everything is under control and fine. I'm a Muslim and my religion permits me to marry more than one wife."
Speaking about how he met Mercy Aigbe, Mr Kazim said that he and Mercy had been business partners for over 10 years.
In his words:
"We were business partners for 10 years, Mercy is a confidant, truthful and would not betray you. I gave her money for a movie and she returned the balance, I was impressed by that and decided to keep up with her in terms of a relationship. From the bad experience from her bad marriage I advised her not to leave her marriage but she asked if I'll advise her to be in an abusive relationship if she was my sister."
Kazim Adeoti's first wife accuses Mercy Aigbe of breaking her home
Shortly after the interview, Kazim Adeoti's first wife Funsho Adeoti made a post where she accused Mercy Aigbe of sleeping with her husband for years.
According to Funsho Adeoti's post, Mercy Aigbe has been sleeping with her husband since her son (Juwon) was five months old. Funsho stated that Mercy Aigbe was still married to her ex-husband Lanre Gentry when she started having an affair with Kazim Adeoti.
Mrs Oluwafunsho Adeoti disclosed that she and Mercy Aigbe were once close friends and that she met her husband when she (Oluwafunsho) invited her to the surprise party she planned for Kazim's 40th birthday.
A part of her post reads:
"I brought you close as a friend because I liked you, but you repaid me by sleeping with my husband, Kazim."
Are Kazim Adeoti and his first wife divorced?
Not at the moment, but Mrs Oluwafunsho in her Instagram posts addressed Kazim as her "soon-to-be ex-husband", confirming reports that she is planning to divorce him.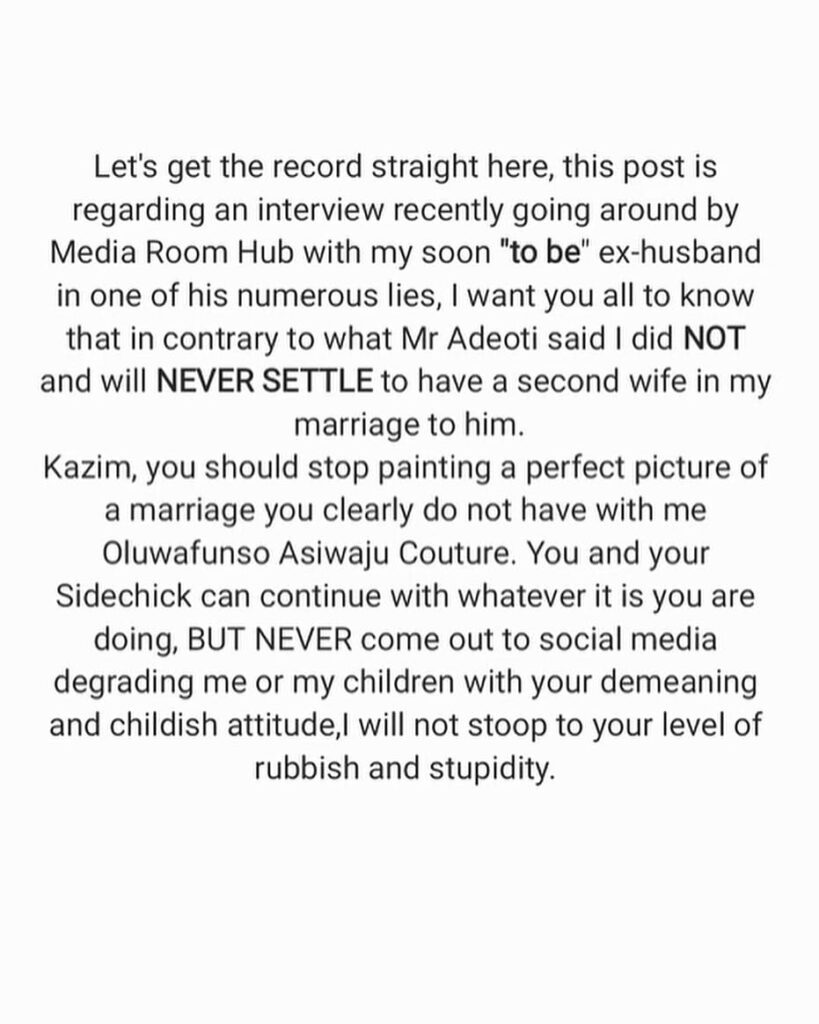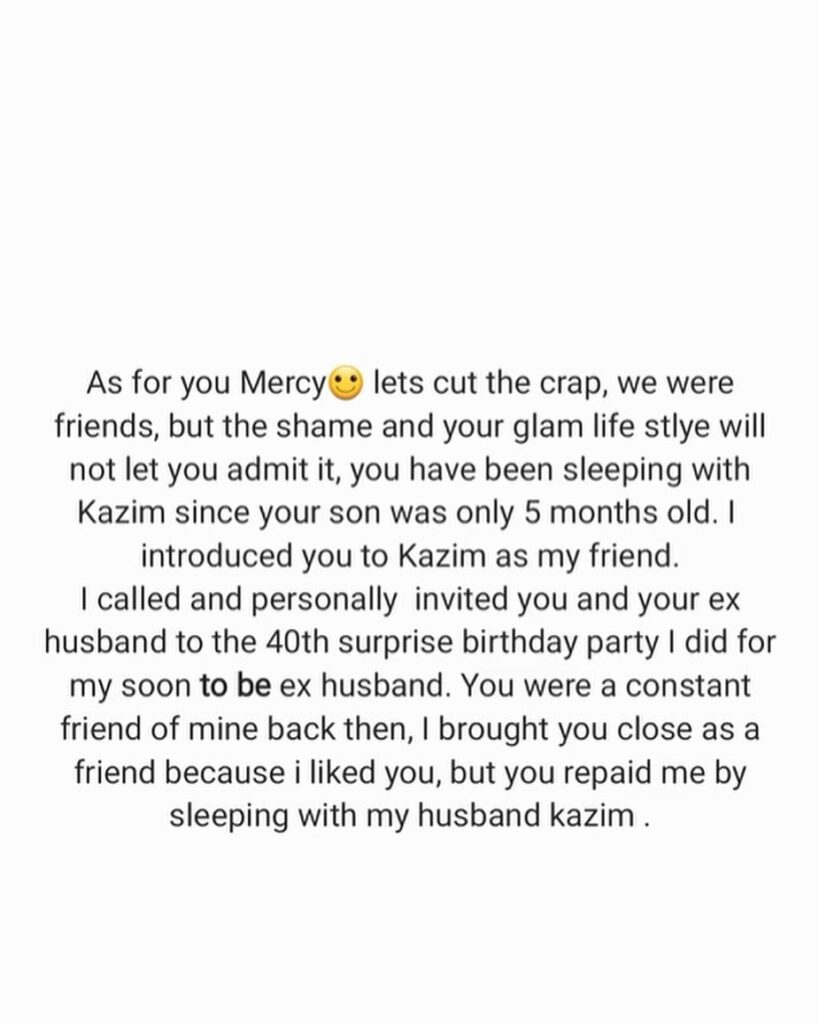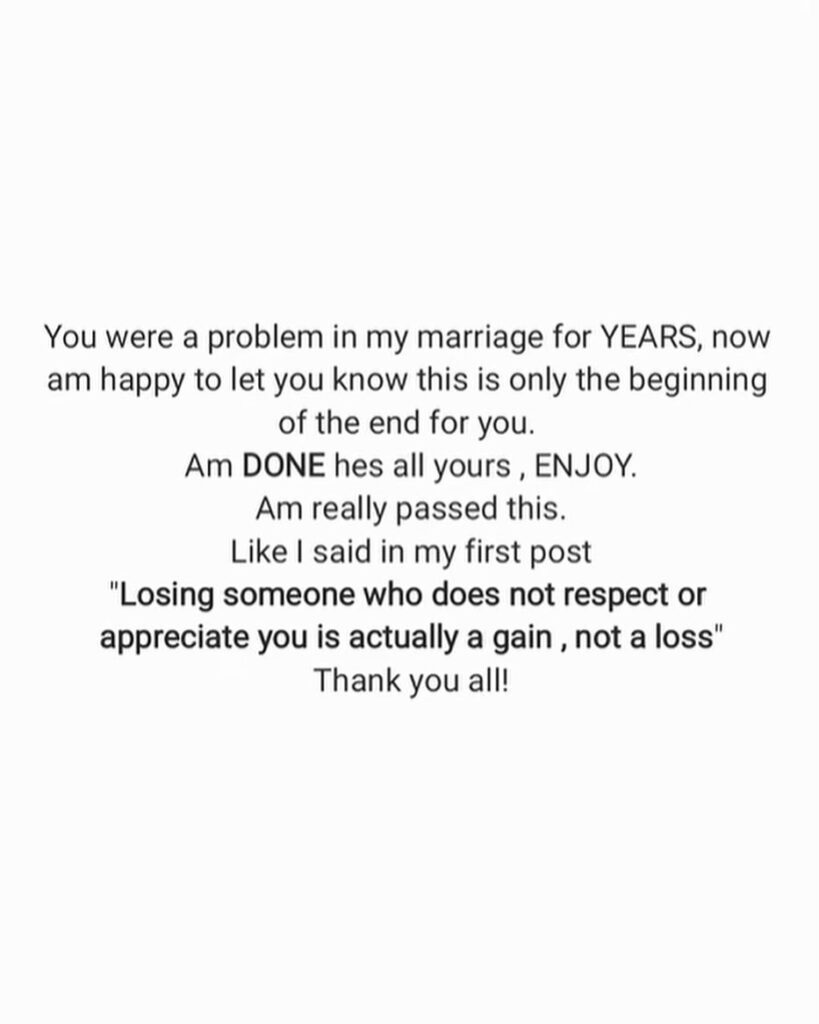 Mercy Aigbe's reaction to the allegations
As soon as Funsho Adeoti's accusation went viral, Mercy Aigbe made another post on her Instagram saying she is being constantly lied against despite having already told her own side of the story.