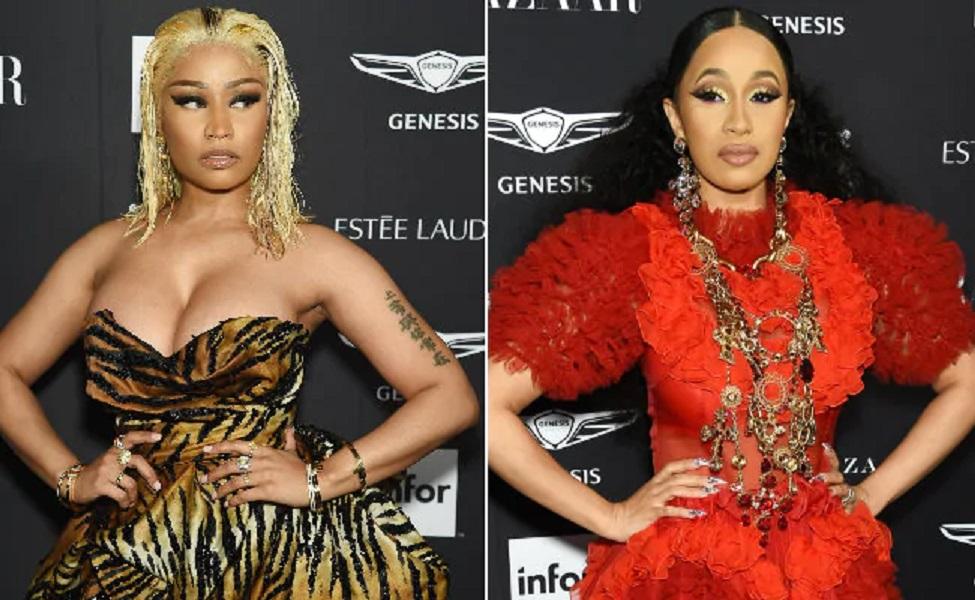 Trouble started stirring between Nicki Minaj and Cardi B when Nicki Minaj allegedly liked a comment that insulted Cardi B's skills as a rapper. The page that liked the comment was later found to be fake.
Nicki Minaj was later seen nodding her head to Cardi B's song, "Bodak Yellow" in a nightclub.
Later on, Nicki Minaj and Offset were featured in London on da Track's song, "No Flag" where Nicki Minaj rapped:
"I heard these labels tryna make another me. Everything you getting little hoe is cause of me."
Many believed this to be a shot at Cardi B. Nicki Minaj later tweeted to clarify that the lyrics were not aimed at Cardi B. She also claimed to have written her verse for the song months before its release.
She tweeted:
It sure ain't. Wrote this one a cpl months ago too #NoFlag
In August 2017, Cardi B called out an unknown woman. She said that this woman has never liked her. Again, fans believed that she was firing back at Nicki Minaj.
In another interview, Cardi B said that she did not want to make trouble with anyone. In her words:
"I don't want problems with anybody. I just want to make music and make money."
However, when her song with G-Eazy, "No Limits" came out, some lyrics were said to be aimed at Nicki Minaj. Particularly where she rapped:
"Swear these hoes run they mouth, how these hoes out of shape? / Can you stop with all the subs? Bitch, I ain't Jared"
However, Cardi B later denied having any problem with Nicki Minaj. On the radio station Power 105.1's The Breakfast Club, she maintained there were no issues between her and Nicki, adding that her lyric could have been aimed at anyone.
In her words:
"We just conversated man. And that's it. People don't understand that I got beef with 10 bitches in the hood, and I still be in the hood."
In September 2017, when Cardi B's song, "Bodak Yellow" hit the number one spot on the Billboard Hot 100, Nicki Minaj took to Twitter to congratulate Cardi B on her accomplishment.
She tweeted:
"Congratulations to a fellow NEW YANKA on a RECORD BREAKING achievement. Bardi, this is the only thing that matters!!! Enjoy it."
Cardi B tweeted back at Nicki with gratitude, writing: "This means sooo much coming from you!!"
In October 2017, Cardi B and Nicki Minaj were featured in Migos' song, "Motorsport." They also appeared in the music video albeit in different scenes. Nicki Minaj said that the reason for the different takes was that her hairstylist was not available on the original day of the shoot.
Cardi B also cleared up any rumours that they were taking shots at each other on the song. At the 2018 Met Gala, the two were seen talking to each other and exchanging pleasantries. Later, on an episode of Queen Radio, Nicki Minaj told Cardi B to stop being sensitive to criticism.
At the New York Fashion Week in September 2018, Cardi B got into a physical altercation with Nicki Minaj. The reason for the fight was that Cardi B thought Nicki Minaj had insulted her parenting of Kulture. Cardi B was said to have thrown her shoe at Nicki Minaj. Afterwards, Cardi B bashed Nicki Minaj in a series of videos posted online. Nicki Minaj responded via Queen Radio. She said:
"I would never talk about anyone's child or parenting. And it's so crazy to me that people always need to make Onika the bad guy….. I'm not a clown. That's clown shit."
In October 2018, Nicki Minaj declared via a tweet that she is bowing out from all the fighting and drama.
Her tweet reads:
Ok you guys, let's focus on positive things only from here on out. We're all so blessed. I know this stuff is entertaining & funny to a lot of people but I won't be discussing this nonsense anymore. Thank you for the support & encouragement year after year. Love you.
At the moment, things seem to have settled down between the two as they have not had any other fight recently.