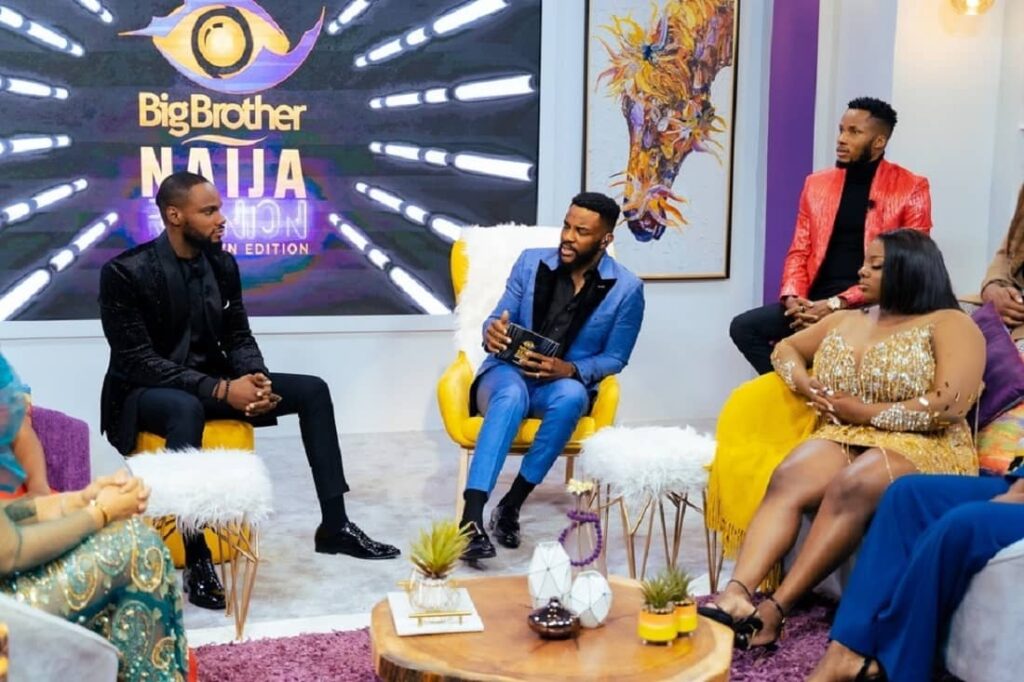 The BBNaija Season 5 Lockdown Reunion Show officially kicked off last night, Thursday, June 17.
Both the show's host, Ebuka Obi-Uchendu and the beautiful ladies and men of the 2020 BBNaija Lockdown season looked delightful at the premiere, with many of them admitting it was nice to see each other again.
All your favorite Lockdown housemates were present except Kaisha and Erica. However, Ebuka announced at the end of the episode that the housemates that were absent will join in the coming episodes.
Highlights of BBNaija Lockdown Reunion show – Episode 1
1. Introduction
Ebuka introduced the ex-housemates, sharing insight into their achievements and current endeavors and how the show has helped them push their careers forward.
According to the show, some of the housemates are now successful vloggers, musicians, business owners, real estate developers, fitness and dance instructors, movie producers and content creators, models, and brand ambassadors.
2. Ka3na seemed to be ignored
Some of the housemates admitted they have not seen each for a long time so there were some hugging and shaking of hands and full exchange of pleasantries between housemates who seem "cool" with each other. Some housemates only said hello to some people and noticeably ignored the others.
Ka3na seemed to have been ignored the most because for several moments while the other housemates reconnected, she was left out. Even her supposed bestie, Lucy, appeared not to acknowledge Ka3na's greetings and she had to call Lucy a few times to remind her she was saying "hello".
3. Tochi laughed when Ebuka asked him if he was excited to see Ka3na
After laughing, he then responded that he was excited to see her. Dorathy also answered in the affirmative that she was excited to see Prince when Ebuka asked her.
4. Ebuka asked the housemates what their intentions are about the Lockdown Reunion
Nengi, with her characteristic 'sweet girl' attitude, said it was nice seeing everyone again and that she hopes they would find a common ground to air their minds.
Tolanibaj said she came to the reunion to clear some misconceptions about a situation that was misunderstood.
Ka3na said she would like everyone to speak their minds and hopefully, she can sort out her issues with some people so they can move on.
Kiddwaya said he's been travelling for a while and hasn't the time to connect with most of the housemates since after the show.
Lilo said she is hoping the housemates resolve all their issues so everyone can become friends again.