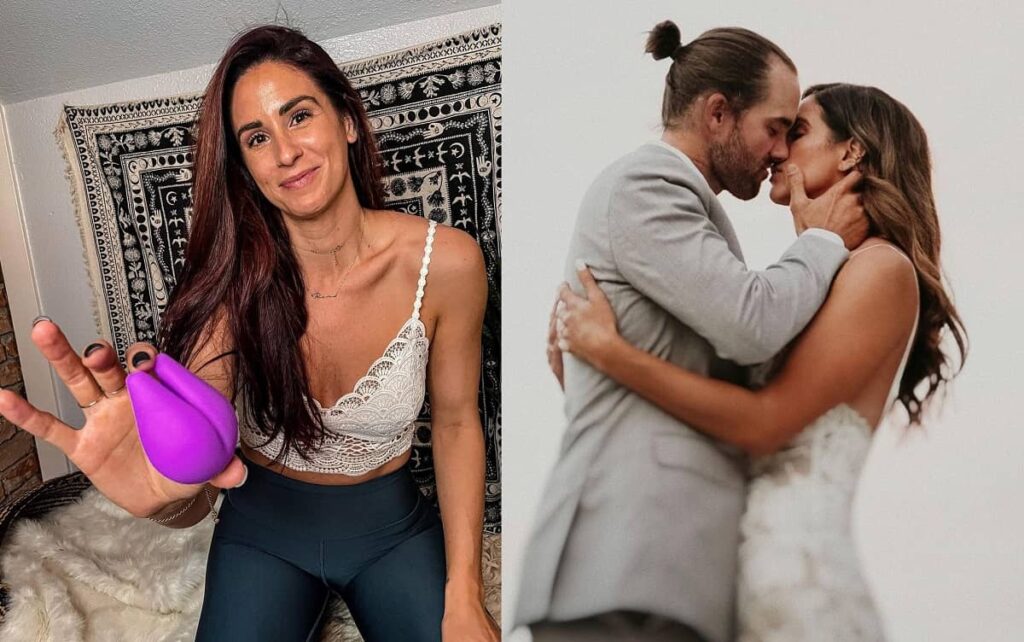 Who is Kelli Tennant?
Kelli Tennant, born Kelli Michelle Tennant, is an American sports journalist, podcaster, and former volleyball player.
She is best known for her spiritual wellness and "sexual liberation" podcast called "The Kelli Show". She has also worked as a television sports reporter and was a former TV host for Sportsnet LA.
Full data profile of Kelli Tennant
Full name
Kelli Michelle Tenant
Nickname
Kelli
Date of birth
December 10, 1987
Age
35 years old
Birthplace
Temecula, California, USA
Profession
Journalist, Reporter, Media host
Nationality
American
Parents
Steve Tennant (Father)
Viviana Tennant (Mother)
Sibling(s)
Steven Tennant (brother)
Marital Status
Married
Husband
Conner Moore
Children
None (as of 2021)
Zodiac sign
Sagittarius
Net worth
Around $3 million
Kelli Tennant early life and education
Kelli Tennant was born on the 10th of December 1987 in Temecula, California, USA. She completed her high school education at Chaparral High School, Temecula, California.
She later graduated with a Bachelor of Arts deegree in Public Relations from the University of Southern California (USC).
Kelli Tennant Volleyball career
While in Chaparral High, Kelli participated in tryouts for the US Junior National Team (Girls U18) in 2005.
She also won several awards in high school, including The 2004 Riverside Press Enterprise and the Southwestern League Most Valuable Player award. She was also listed among the Los Angeles Times All-Star Girls volleyball team and was named among the Fab 50 Recruits by Volleyball magazine.
At the peak of her volleyball career, Kelli Tennant played two seasons at USC (2005-2006). She did not play during the 2007 season due to a diagnosis of fibromyalgia but stayed active in sports. In fact, she took on a role as an on-camera interviewer for the TrojanTV All-Access broadcast in 2007. Her colorful analysis of the USC men's volleyball matches earned her praise.
The situation probably helped to further propel her interest in sports media.
Kelli Tennant: Fibromyalgia diagnosis and retirement
In 2007, Tennant was diagnosed with fibromyalgia, a disorder that comes with widespread musculoskeletal pain and affects the muscles and soft tissue. As a result of this, she was sidelined for the entire season. She then retired from collegiate volleyball at the end of the season. Despite having the injury, she still served as one of the team's co-captains.
Kelli Tennant's career in the media
Kelli Tennant's media career started as a television host back in 2010. She later worked for various big networks across the country, such as Fox Sports and Spectrum Sportsnet.
While working with Sportsnet, Kelli covered the news for the Dodgers, Lakers, Sparks, and Galaxy. She also worked for other big channels like ESPN, PACR, E-NEWS, and many more.
Tennant later moved from sports media and transitioned into a new career as a wellness coach and podcast host.
About Kelli Tennant's ex-fiance Amir "Nick" Ekbanti
Kelli Tennant was previously engaged to Amir "Nick" Ekbanti, the former UCLA offensive lineman. They got engaged in December 2013, a year and a half after he got involved in a Redondo Beach motorcycle crash.
After undergoing several surgeries, he was forced to amputate his leg. This incident affected their relationship a lot as Tennant had to quit her job to stay with him during his surgeries. Unfortunately, she decided to call off their engagement and they broke up.
Kelli Tennant said at the time:
"It just became too much. I'm trying to build my career at the same time I'm trying to keep this guy alive. I just couldn't handle it myself anymore."
Kelli Tennant marriage to Conner Moore
Kelli Tennant married his longtime boyfriend and fellow podcaster Conner Moore in November 2021. Conner is the host of the Realness and Conner Wanders podcast. Following her marriage to Conner Moore, Kelli Tennant changed her name to Kelli Tennant Moore or Kelli T. Moore.
Kelli Tennant children
Kelli Tennant and her new husband are yet to have kids but they are raising two beautiful dogs together.
Kelli Tennant's sexual assault accusation against Luke Walton
In 2019, KelliTennant sued Luke Walton, the coach of Sacramento Kings, for sexual assault – an incident that allegedly happened around 2014 while Walton was still an assistant coach with the Golden State Warriors.
According to the story as sighted by DNB Stories Africa, Tennant, who claimed to have known Walton for years, had gone to give him a copy of her book at his hotel room in Santa Monica. The Warriors was on road trip to Los Angeles at the time.
According to Tennant, Walton forcefully kissed her, held her down and rubbed his male organ on her leg during their encounter.
Luke Walton denied all the allegations and the NBA chose not to punish him after running its investigation on the matter. The NBA also complained that Kelli Tennant did not cooperate witt them during the course of their investigation.
Tennant later dropped the case in December 2019. She opened up about the encounter in a press conference she gave in April 2019, saying that she only told close friends and family about the inicident before going public. She added that coming forward with an accusation of sexual assault is always a "scary thing" for the victim.
Kelli Tennant net worth
Kelli Tennant has an estimated net worth of around $3 million.
Kelli Tennant on social media
Kelli Tennant is active on Instagram as @kellitmoore.